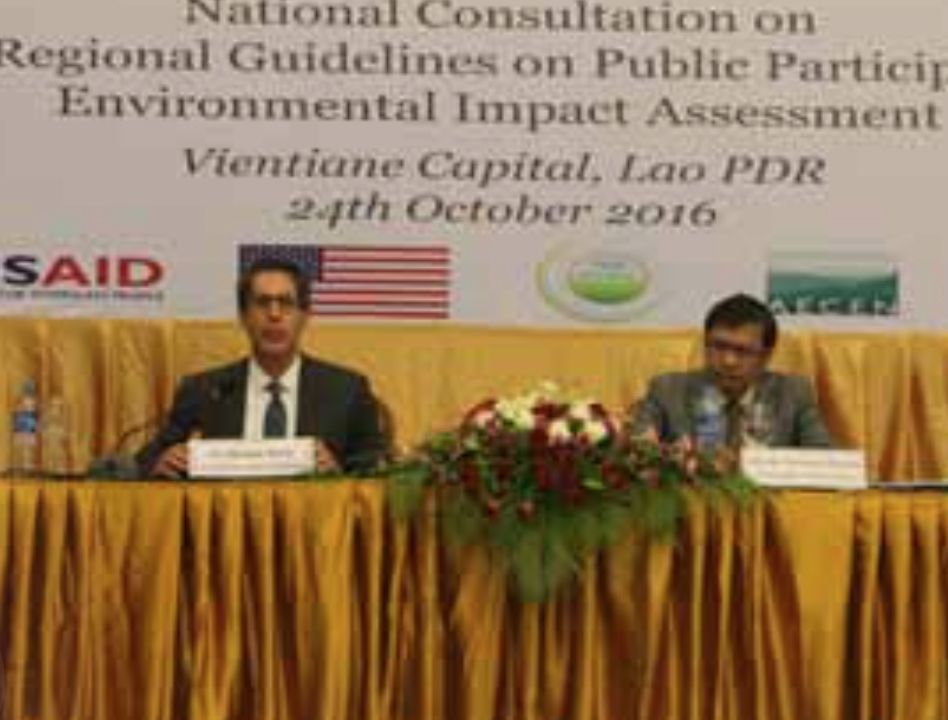 Representatives from government and civil society met yesterday to provide feedback on draft regional guidelines for effective public participation in environmental impact assessment processes, to ensure these processes involve communities.
The participants' input will help to improve an effort that is seen by many as critical for the region to address the environmental and social impacts of a growing array of regional development projects including dams, mines, power plants and industrial zones.
Government and civil society actors met for joint public consultations on regional guidelines to ensure environmental impact assessment processes involve affected communities.
Director General of the Planning and Cooperation Department, Dr Xaynakhone Inthavong, and Charge d'Affaires of the US Embassy to Laos, Mr. Michael Kleine, co-chaired the meeting.
Public participation is at the heart of good development, in support of the regional working group that is drafting the guidelines. What is powerful about this drafting process is the level of engagement among governments and community partners from around the region, Mr. Kleine said.
According to the United States Agency for International Development (USAID), as the region experiences a period of rapid economic growth and increasing foreign direct investment in infrastructure projects, the regional environmental impact assessment guidelines are being developed in response to a shared concern about the social and environmental impacts of those projects.
Communities and experts throughout the region have been reporting severe negative impacts on natural resources, fish populations, agriculture, community health and culture.
While environmental impact assessment is implemented in all lower Mekong countries, it is often hampered by a lack of effective public participation. This gap can result in adverse social and environmental impacts, project delays and conflicts with communities, all leading to costs and risks for investors and governments.
The regional guidelines on public participation in environmental impact assessment have been drafted by a multi-stakeholder Regional Technical Working Group, which was formed in August 2015 with support from the USAID-funded Mekong partnership for the environment.
The consultation was part of a series being held across all of the lower Mekong countries of Laos, Cambodia, Myanmar, Thailand and Vietnam throughout October. The consultations provide investors, environmental impact assessment practitioners, communities, NGOs, government departments and others the opportunity to review and provide feedback on the draft guidelines.
After the public comment period has closed, the working group will revise the guidelines based on public input received. Once finalised, the work will turn to ensuring these guidelines are implemented by developers and used by governments to complement and improve national policies and practices.
Source: Vientiane Times