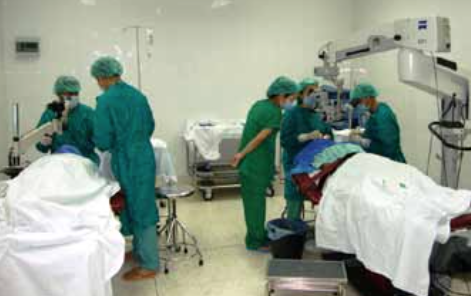 Vietnamese and Lao ophthalmologists provided free-of-charge cataract surgery in Laos from November 13 to 16 to assist poor patients in the country in regaining their eyesight.
The cataract surgery was performed under the Cataract Surgery Programme of Vietnam-Laos Friendship with support from the Ho Chi Minh City Eye Hospital of Vietnam
Patients in Vientiane and nearby provinces with cataract problems received treatment at the National Ophthalmology Centre and 103 Military Hospital in Vientiane. The surgery dramatically reduces the magnitude of blindness, which is largely avoidable. The treatment was conduced in accordance with the government's obligation to provide the highest attainable standard of health for its citizens.
Director of the National Ophthalmology Centre, Dr Khamphoua Soutthisombat, spoke with Vientiane Times last week. He said the team removed cataracts from about 200 elderly people.
This programme has helped many poor patients regain their eyesight. It also gives poor patients the opportunity to access high quality medical services and support themselves instead of depending on others, Dr Khamphoua said.
Ho Chi Minh City Eye Hospital started to perform operations in Laos in 2006, focusing on the problem of blindness. The programme aims to raise public awareness about the prevention and treatment of vision loss. Moreover, the programme is a step forward in strengthening the traditional friendship, solidarity and comprehensive cooperation between Vietnam and Laos and in particular between Vientiane and Ho Chi Minh City.
From 2006 to 2016, over 3000 poor patients with cataract problems in Laos have benefited from this programme.
According to the centre, a recent survey in Laos estimated that 3 percent of the population aged 50 years old and above is blind. This prevalence level contrasts with that of a developed country such as Australia, which is under 1 percent.
The incidence rate among the population in ASEAN member countries was 0.1 percent. Cases were mostly found in the elderly, while others occurred because of eye injuries, diabetes and genetic defects. But the condition can easily be treated, according to World Health Organisation.
Primarily, blindness in Laos is caused by cataracts, while poor vision is caused by uncorrected refractive errors.
The prevalence of blindness is estimated to be as high as 5 percent in some rural or remote areas of the country. Women account for up to twice as many cases of blindness as men. Besides the impact of vision loss on a person's quality of life, there is also a substantial economic loss associated with blindness, including increased unemployment, decreased productivity and increased welfare costs.
Preventable blindness is a significant global health problem, which hinders development and disproportionately impacts the poor; yet many of the cases can be prevented or treated. Programmes like the Cataract Surgery Programme of Vietnam-Laos Friendship help overcome this obstacle.
Source: Vientiane Times