Siem Reap (Cambodia) – The GO Group, Asia's largest independent public relations, marketing and strategic communications network held a leadership summit for its associates from member agencies at the Sokha Angkor Resort in Siem Reap, Cambodia.
The summit's agenda included, among others, networking between affiliate agencies and associates to foster stronger connections and solidify cross-national exchange of knowledge and resources, including exploring new concepts, insights and methodologies to gain better, more innovative and effective ways to serve clients.
"We are truly excited to be hosting our counterparts from the GO Group right here in Cambodia," said Sisopheak Siet, Managing Director of Active Communications.
"We truly believe this to be a great place to hold the summit. Besides being centrally located by affiliate agencies in the group, Cambodia has also in recent times been an incredible emerging market for brands, with growing maturity in the area of communications. It has also provided the opportunity for delegates to step out of their regular routine and group together and learn from each other – and what an incredible way to hold this summit, against the backdrop of one of the world's most famous landmarks and largest religious monument in the world – the Angkor Wat," he added.
The summit saw the convergence of numerous executives from affiliate agencies across the region. Currently, the GO Group, headquartered in Malaysia's GO Communications comprises affiliated agencies in Singapore, Thailand, Laos, Cambodia, Vietnam, Philippines, Indonesia, Sri Lanka, Japan, India, China and Hong Kong.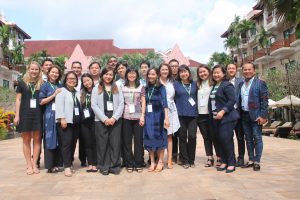 "The GO Group consists of the best local agencies in each market with a deep cultural understanding of their respective clients and media landscape. The concept of coming together on an annual basis allows the group a platform for an exchange of knowledge and further solidify our network policies and strategies to take to market as a powerful force. Our thanks go out to Sisopheak and his team for putting this together, and we're confident that it will be an extremely beneficial time for all who attend," said Peter de Kretser, CEO of GO Communications and Director of the GO Group.
"While we seek to share and learn from each other about our experiences in different sectors, we also seek to strengthen our offering to clients including building our digital capabilities. We are truly fortunate to have a great working relationship with our network agencies and have seen the group growing a number of regional clients," he added.
He also stated that the group is looking into plans to expand beyond the Asian region by extending its reach to Australia, United Kingdom and the United States.
"It's absolutely incredible to be in the Kingdom of Wonder and to see the magnificence that is the Angkor Wat. As one of the newer members to jump on board the Go Group, Laos's Sengdara Communications is particularly proud to be a part of Asia's largest independent marketing network. We would like to renew our commitment to the Group and look forward to welcoming more members in the near future," says Viroun Sengdara, Managing Director of Sengdara Communications, one of the newest members of the Go Group.
More information about the GO Group can be found at www.gocomm.com.my.