13th Annual Lao Food Festival Set to be Largest Yet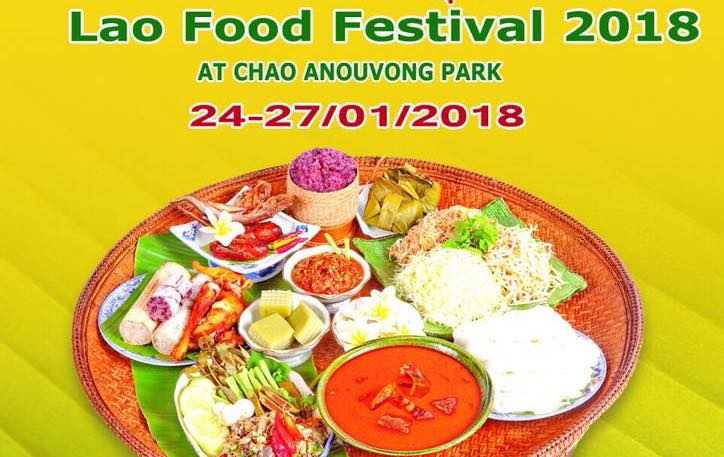 President of the Lao Business Women's Association Madame Chanthachone Vongsay has encouraged Vientiane residents and visitors to attend the 13th Annual Lao Food Festival, which is scheduled to be held at Chao Anouvong Park in Vientiane Capital from this 24 Jan to 27 Jan, 2018. This year's theme is entitled "Best Lao Food to Welcome Visit Laos Year 2018."
"The festival aims to promote opportunities for women entrepreneurs to exchange knowledge and learn how to improve their food products and supply market demand, thus boosting their income generation," Chanthachone said.
The 13th Annual Lao Food Festival is expected to draw about 180 booths, more than previous years, from domestic and foreign exhibitors, including Lao culinary vendors across the country, as well as their counterparts from the ASEAN countries.
In addition, embassies from ASEAN countries such as Cambodia, the Philippines and Thailand will also participate in the festival to promote and display their national foods.
The festival will also feature a cooking contest where top Lao chefs will display their skills preparing specific dishes.
The winners of the contest will be awarded 5 million kip as the top cash prize, 3 million kip and 2 million kip for the first and second runners-up. Eligible candidates can apply for the contest at 021465034.
The major sponsors of the festival this year are: Lao Brewery Company, the Dao Heuang Group, the Department of Small and Medium Enterprises Promotion and KP Company. It is organized by the Lao Business Women's Association.
The food festival will begin at 9:00 and end at 17.00 (Jan 24-27, 2018).
Source: KPL