Laos is preparing to nominate the famous traditional dance Lam Vong for UNESCO World Heritage status.
On the 9th of March, a meeting led by Bouangern Xaphouvong, Deputy Minister of Information, Culture and Tourism allowed representatives from relevant sectors to deliberate the possibility of nominating this unique and quintessential element of Lao culture for the prestigious UNESCO World Heritage status. It was only a month earlier that Minister of Information, Culture and Tourism Bosengkham Vongdara officially appointed a committee to supervise the preparation of documents required for this purpose.
Participants of the meeting also discussed the possibility of nominating other cultural elements such as Lao New Year, almsgiving, Baci ceremony, and Kong Khao Festival for the UNESCO World Heritage status.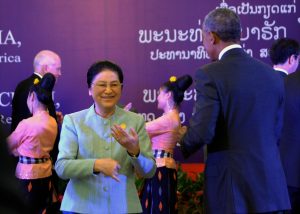 According to the definition provided by UNESCO, intangible cultural heritage (ICH) is made up of oral traditions, performing arts, social practices, rituals and festive events, knowledge and practices concerning nature and the universe, and traditional craftsmanship knowledge and techniques.
Some characteristics of ICH are that it is simultaneously traditional and contemporary; it is integrative and contributes to cultural identity; it is representative and transmitted from generation to generation; and it is based on communities.
Its importance lies not in the cultural manifestation itself, but in the heritage of the knowledge and techniques that are passed on, revealing social and economic value for both human groups and entire countries.
Within the context of globalisation, ICH is of tremendous importance as it allows cultural diversity to be maintained through dialogue between cultures and the promotion of respect towards other ways of life.
Several months ago, UNESCO recognized the Khaen, Laos' famous traditional piped instrument, as part of the list of intangible cultural heritage of humanity.
Source: KPL