Two newly formed insurance companies based in Vientiane, TKI Life Insurance and TKI General Insurance, are expecting to conquer the life and general insurance markets in Laos with packaged products and professional services starting this year. The two joint venture firms became fully operational in October 2017 with a combined registered capital of USD $4 million.
Speaking at the opening ceremony, Chairperson of the Board of Directors of TKI Life Insurance and TKI General Insurance, Siphonekham Douangdara, said insurance had existed around the world for many years and offered benefits for assurers and contributed much to the nation's economic development.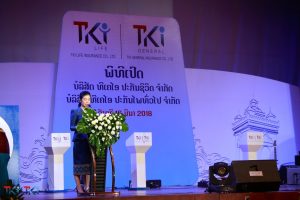 "Assurers will be compensated by an insurance company when they fall victim to any kind of disaster and this also boosts the business operations of insurance firms to move alongside with the country's socio-economic development," Douangdara said. She also mentioned that the two companies have set quite an ambitious goal of becoming the top providers of both life and general insurance in the country.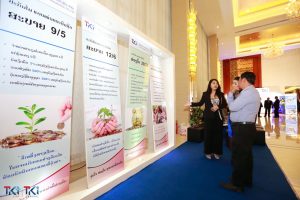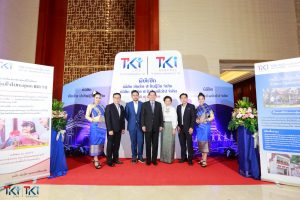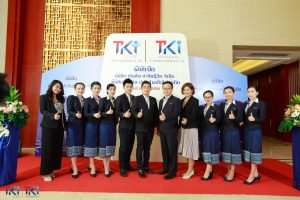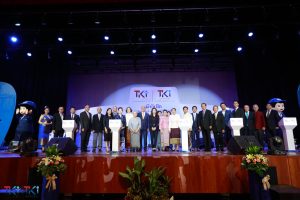 TKI Life Insurance is a joint venture between the Lao conglomerate TK Group, Navakij Insurance PCL, and Thaire Life Assurance PCL, with registered capital of USD $2 million. TKI General Insurance is a joint venture between TK Group, Navakij Insurance PCL and the Falcon Insurance PCL. The two companies have total registered capital of USD$4 million.
During the opening ceremony, a lucky draw offered VIP customers Personal Accident, Car and Home insurance. Five Sabaidee PA Plan 1 valued at 25 million kip each as well as five Sabaidee PA Plan 2 valued at 50 million kip each were given away to lucky winners. Additionally, one prize for individual accident insurance valued at 250 million kip went to one lucky guest and two other guests won car insurances valued at 420 million kip (Smile Safe) and 720 million kip (Smile Plus), respectively. Lastly, home insurance was also counted in the lucky draw for one prize with a total insured budget of 1.5 billion kip.

Within the first five years of business operation, the TKI companies expect to open branches in the nation's major provinces – Luang Prabang, Savannakhet, Champassak and Vientiane.