In recent years, Laos has become increasingly open to international women's beauty pageants as evidenced by its sending contestants to the Miss International Queen, Miss Grand, Miss World, Miss International, and most notably Miss Universe Pageants. There, the beautiful women are adorned in modern attire, sports gear, national dresses and of course, swimsuits.
However, in Lao beauty pageants, the more layers a woman has on, the better. Gorgeous handmade silk dresses and sparkling gold jewelry are in style and if one wants to be the Miss New Year Queen (Nang Sangkhan), that's what you have to wear.
Traditionally, the Miss New Year Queen Competition was only held in Luang Prabang. Nowadays, the other provinces have their own Miss New Year Pageants. Apart from the Miss Laos competition, it's one of the most talked about pageants in the country.
Who was Nang Sangkhan in early Lao mythology? Here's SEASite's brief introduction to the legend of Kabilaphom:
Kabilaphom, the legendary Heavenly King with a four-faced head, often asked people to solve riddles. If they provided the wrong answer, he would have them beheaded. One day, he asked a particularly wise young man to solve a complex riddle within seven days. Feeling confident in the difficulty of the task, Kabilaphom stated that he would forfeit both his own head and his Kingdom if the young man were successful. On the seventh day, the young man solved the riddle and Kabilaphom subsequently ordered his seven daughters to proffer his head to the wise man. However, because Kabilaphom possessed such great powers, severing his four-faced head would be a catalyst for disaster. If his head fell to the ground, the earth would burn. If it were submerged in water, oceans and rivers would boil. If thrown into the air, tornadoes would destroy the earth. To avoid such devastation, Kabilaphom instructed the young man to present his head to his daughters to keep deep inside the earth. In a demonstration of respect, however, Kabilaphom's head had to be paraded on a sacred silver receptacle in an annual procession to prevent the occurrence of natural disasters. Therefore, during the annual New Year Festival, the seven daughters, each recognizable by her own characteristic animal, flower, and other identifying features, parade Kabilaphom's four-faced head for all to see.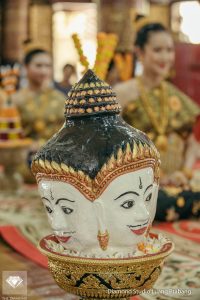 And this daughter is Nang Sangkhan (Miss New Year Queen) who is chosen, along with her other 6 sisters (runners-up), to parade their father's head in an annual procession that is quite a spectacle in itself.
Here's a look at some of this year's Miss New Year Queens!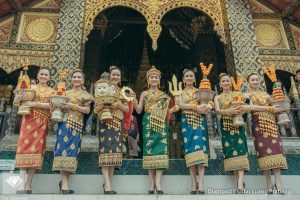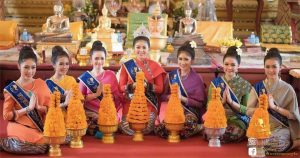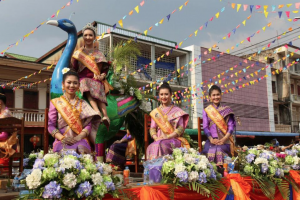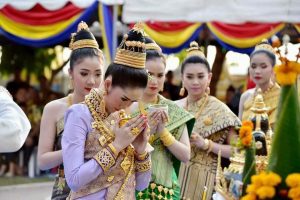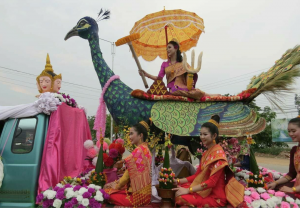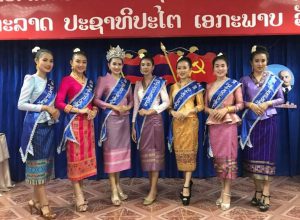 Photo Credit: Ketsana Keosouvannaseng, Kham Kham, Tourism Savannakhet, Koud Svl, Thongdee Bouabane Photos Grapher, Diamond Studio, Laos, Luang Prabang Moradok, Nounee Soukthavee