An official from the Ministry of Energy and Mines revealed that Laos placed second in the list of the most expensive ASEAN countries in which to buy fuel.
The government officer released the startling statistic (dated May 2018) during a workshop aimed at sharing information and knowledge about electric vehicles and its application in and relevance to the Lao market. The workshop was organized by the Transport Department of the Ministry of Public Works and Transport and sponsored by EVLAO and CHOSEN Energy.
While Singapore topped the list at 13,550 kip/liter (gasoline) and 10,101 kip/liter (diesel) as the most expensive place to buy fuel, Laos came second at 9,992 kip/liter (gasoline) and 7,927 kip/liter (diesel).
Cambodia, the Philippines and Thailand placed 3rd, 4th and 5th, respectively. The cheapest place to buy fuel was oil-rich Brunei at 3,193 kip/liter (gasoline) and 1,902 kip/liter (diesel).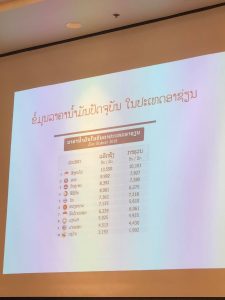 Transport Department Deputy Director General Boualith Pathomthong told workshop participants that the world was at present confronting the dual challenges of climate change and air pollution caused in part by the presence of an increasing number of traditional motor vehicles.
Many workshop speakers noted that many countries around the world were currently adopting policies and practices aimed at curbing the use of internal combustion engine-based vehicles, citing electric vehicles as a viable, environmentally-friendly alternative. They also noted that the use of electric vehicles could dramatically reduce Laos' dependency on oil imports.