Students at schools across Laos have been heading back to hit the books, but those young scholars in Attapeu's Sanamxay district are facing more hurdles than most in returning to regular educational routines.
Education was one of the sectors impacted by flash floods caused by the collapse of Xe Pian Xe Namnoy's Saddle Dam D that severely damaged school buildings along with dwellings and other public and private community infrastructure on July 23 amid heavy rains from Storm Sonh Tinh that caused flooding across 10 provinces.
Sanamxay district's students in higher grades are now headed back to school with the remainder of lower grade students to do so by the end of this month, an informal audience in the capital heard.
An informal update on UNICEF's response in support of the Lao Ministry of Education and Sports in Sanamxay flood disaster relief efforts was offered by Deputy Representative of the United Nations International Children's Emergency Fund (Unicef Laos) Dr. Myo-Zin Nyunt to an interested audience at an event held at CBD venue Earth-Vientiane.
He said Unicef Laos has been working to improve the precarious situation of women and children in all shelters, focusing on water, sanitation, and hygiene (WASH), health, nutrition, education, and child protection.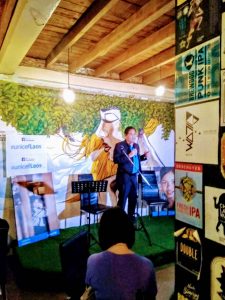 Having returned to the capital from his second and most recent visit to the affected areas Tuesday joining the Minister of Education and Sports, the Deputy Representative said rains and the nature of the terrain and transport logistics continue to hamper land transport and access to relief camps in Attapeu's Sanamxay district set up in the aftermath of the devastating flash floods.
"It's really heartwarming to see children go back to school. It's important that children, as soon as they can, get back to routines and normal, so they can really overcome psychological trauma and stress from this very unfortunate incident," Dr. Myo-Zin Nyunt told the gathering.
"As you know many schools have been destroyed, many students are in camps where displaced people are many teachers also victims of this. Yet what I see is the people in solidarity with the ppl of Sananmxay, trying to help and support and bring back the community as much as and as soon as possible".
"There is a strong commitment from ministry and minister that all schools, regardless of how much they were damaged, are to open by or at latest end of September"
The update comes as a rainy season of heavy downpours results in flooding at multiple locations across the country, testing local, provincial and national capabilities as well as stretching public finances.
Flash floods destroyed homes, schools, and critical infrastructure in Attapeu Province following the collapse of Saddle Dam D on 23 July 2018. Approximately 13,000 people have been affected, with over 4,000 evacuated to emergency shelters, according to the United Nations (United Nations in Lao PDR) figures.
Dr. Myo-Zin Nyunt's talk at Earth-Vientiane may be viewed in two parts via https://www.facebook.com/uniceflaos/