Could the cross-border retail and recreation-related dreams of foreign expatriates, non-diplomats and other non-Lao-non-ASEAN-passport-holding residents in Laos be about to come true across the Mekong in Thailand once again visa-free?
Laos' near neighbour is reportedly considering removing the restrictions on land border entry affecting foreign expatriates in neighbouring countries including Laos for an initial period of two months, both The Nation and Bangkok Post reported on November 14.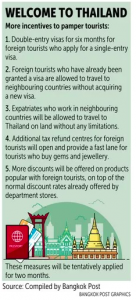 The move would loosen restrictions that have been in place since December 31, 2016 as reported by Laotian Times.
The reported move from the country's cabinet Tuesday comes amid efforts by Thailand's policymakers to attract more visitor arrivals.
Other proposed measures also include double-entry visas for six months and special discounts at Thai malls under the "Amazing Thailand Grand Sale: Passport Privileges" campaign that continues from November 15 to January 15, 2019.
Since the start of 2017, limits on land border entry have affected foreign non-ASEAN passport holding expatriates (including those eligible to a visa-waiver), restricting them to just two single visa-free entries on arrival via the country's land border points per year.
It remains to be seen whether the mooted liberalization will come in the form of carving out an exemption for foreign expatriates or result in the removal of the two-times-per-year land border entry restriction entirely.
Either way, a loosening on the restriction is likely to be welcome news, particularly to those for whom visa application processes and fees have proved onerous enough to prevent them from regularly visiting otherwise accessible destinations located on the far side of mighty Mekong.