by Julia Case-Levine
Traditional practices accompany contemporary trends in Depths, the inaugural exhibit of Elevations, a non-profit art initiative launched this month in the Southeast Asian nation of Laos.
Launched last Friday night in the Lao capital Vientiane and continuing until January 16th, the exhibition is both an international event, including artists from China to Cambodia, and a celebration of work of three local artists, Tcheu Siong, Bounpaul Phothyzan and Souliya Phoumivon.
This month, the trio will become the first-ever group of artists from Laos to be included in Brisbane, Australia's Asia Pacific Triennial of Contemporary Art, the Queensland Art Gallery's Gallery of Modern Art's flagship exhibition.
Depths is divided into three "chapters"—Other, Lands and Selves—reflecting themes explored in the work of Siong, Phothyzan, and Phoumivon respectively.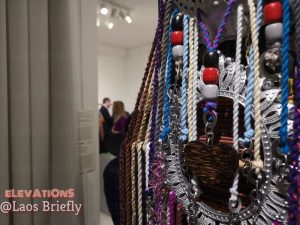 Depths, an exhibition by Elevations at I:Cat Gallery Simeuang Village in Vientiane, Laos. (Laos Briefly)
These sections, each occupying a room at I:Cat, present traditional visual and textile work alongside contemporary sculpture, installations and audio-visuals.
The result is a sprawling, impressive debut fitting an ambitious new organization.
Significantly, Depths showcases video and material installation by artists from Laos —including forms that have not always resonated with a local audience.
As Phothyzan explained in a panel at Elevation's opening symposium; "When I exhibited conceptual work in Laos once before, the reaction was not good. The interest was not here—the thought was that the arts must be drawing, painting, visuals."
In Depths, Phothyzan's material installation is a trio of mounted bombshells, each precariously supporting an empty, white, hauntingly pristine birdhouse. His work powerfully reflects both on the devastations of Laos' recent history of war and his late father's career as a soldier.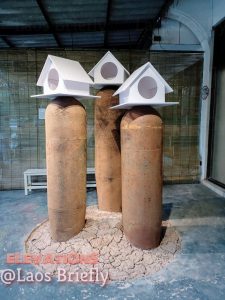 At Elevation's Symposium event, Lao artists spoke of the pressure to focus on traditional painting and sculpture as these forms remain the most lucrative, thanks to the demand that is driven by the tourist industry.
Phoumivon, who graduated from Laos' National Institute of Fine Arts in 2008, found his departure from visual work met with outright disapproval: "People asked me, how are you going to feed your family, make money in Laos if you are not painting?"
Erin Gleeson, Elevation's founding artistic director and curator, hoped to answer this question by developing a space supportive of both traditional and non-visual art forms. Says Gleeson: "We wanted to create an environment in which it felt right to show not only painting but also [installation] work artists might usually show outside."
Phoumivon's marvellous stop-motion animation—an eerie, playful series depicting humans transforming into a colorful herd of buffalo—represents, in part, Phoumivon's struggle to resist social pressure and follow his artistic instincts.
"It's easy to follow the train of society—to become a buffalo. If you simply follow trends, follow materialistic impulses, even highly educated people can become buffalos," Phoumivon says.
While Elevations places Lao artists among their international peers in Depths, the organization also aims to encourage growth in the local art world. Public programs—ranging from film screenings to art-classes—offer support for emerging artists.
A reading room in Little House Café, a short walk from the gallery, allows patrons to browse texts on art history, theory and practice, while children can color on worksheets inspired by the gallery exhibition.
In addition to its public programs, Elevations is organizing a competition for local emerging artists on even years and a subsequent international exhibition on odd years.
Elevations was founded by Gary Stafford of the Spellbrook Foundation. Stafford served as a managing director of Brisbane-based copper and gold miner PanAust Limited, best known in Laos for its Phu Bia Mining subsidiary.During Stafford's 18 years managing PanAust, he frequently travelled to Laos, his interest in art collection gradually familiarizing him with the local scene.
When he began investigating how to support emerging Lao artists he was introduced to Gleeson, who at the time was serving as curator and the founding Artistic Director of SA SA BASSAC in Phnom Penh.
The two collaborated to create a unique initiative that would best suit Laos, drawing on support from the Australian Embassy, STELLA, and I:Cat gallery.
Elevations aims to enrich an artistic ecosystem in Southeast Asia by nurturing connections between diverse artists. "If we bring the right people together, networks are formed and opportunities are made," Gleeson says.
Guo-Liang Tan, an exhibiting artist from Singapore, attests. "Already we've exchanged many stories, developed personal and professional relationships."
Tan also observed the opportunity for intercultural learning afforded by exhibiting abroad. "It's a great chance for those of us not from Laos to learn about a place many of us have not yet been."
The visiting artists were introduced to Vientiane on a tour led by Elevations last Friday, focusing on the city's artistic and literary history.
Although Depths' range can be dizzying, its lack of focus is often a strength—in moments, contrast creates a delightful tension between works.
Such is the case in the exhibition's second chapter, Lands, in which a panel of austere, serene water patterns are shown beside destructive, explosive rivers in looping video footage of the impact of humanity on nature for our modern power needs.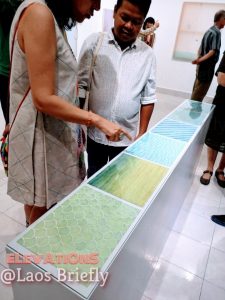 Among a number of superb pieces—such as prints that transform abandoned lots into dreamy landscapes and a photo-series that documents a Hmong legend as lived out in America—the colorful, enigmatic needlework of Lao artist Tcheu Siong is not to be missed.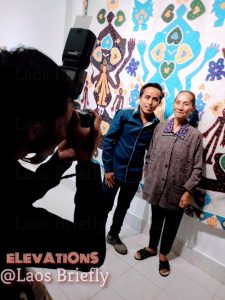 Siong translates her dreams into large-scale textiles, relying on Hmong mythology and her husband's shamanistic practice as interpretive tools. While her work is rooted in tradition, the product is something utterly unique, and unlike the full canvases and bold geometric patterns of traditional Hmong textile.
Her textiles depict human figures engulfed in cheerfully polka-dotted creatures. Heart shaped decals flower across the canvas like otherworldly eyes. Appliqués appear simple geographic forms at first glance, but upon closer observation reveal themselves as bodied animals and humans.
The blend of old and new in Siong's work perhaps best exemplifies Depth's power as a conceptually modern exhibition that doesn't belittle or dismiss traditional practices but considers how these may be used in fresh and unusual ways.
Text: Julia Case-Levine
Images: Laos Briefly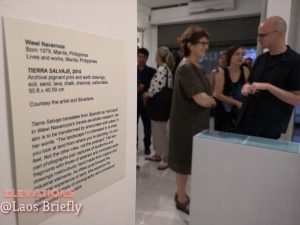 Depths, an exhibition by Elevations at I:Cat Gallery Simeuang Village in Vientiane, Laos. (Laos Briefly)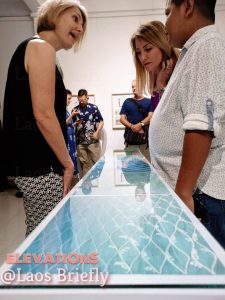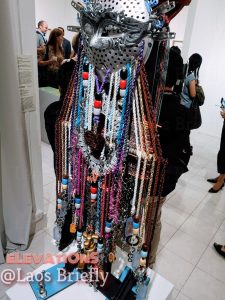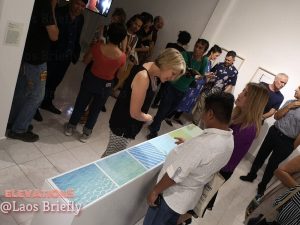 Depths, an exhibition by Elevations at I:Cat Gallery Simeuang Village in Vientiane, Laos. (Laos Briefly)
Depths at I: Cat Gallery, Simeuang Village, Vientiane Capital, Laos until January 16, 2019.
Opening hours:
Everyday 11:00 – 18:00
Phone for appointment: 020 77839674
Email: icatgallery@gmail.com