Mercure Hotel chain has announced the closure of its Vientiane property from March 1, 2019.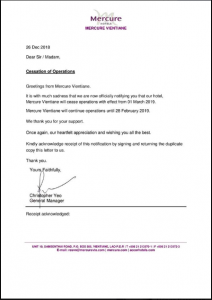 The Mercure is set to continue trading until February 28 shutting its doors for the final time March 1, the letter signed by general manager Christopher Yeo and dated December 26, 2018, announced.
Boasting 172 well-designed guestrooms, the four-story hotel long benefited from its site conveniently situated on the airport end of Vientiane's downtown.
More recently the highly competitive market for higher end hotel accommodation and proximity to the larger Crowne Plaza Hotel were doubtless among the factors driving demand and affecting considerations on the viability of the business in Vientiane for the Mercure Chain, part of the Accor group.
Laotian Times like other denizens of the city and beyond will be tuned in to learn what's next for this prime spot located opposite the Park Honouring the legendary monarch King Fa Ngum.