Southern Laos: Could there be a more adventurous yet chilled, charming and unpretentious place in SE Asia for genuine, authentic, relaxing and inspiring #MekongMoments?

Like a rustic riverboat floating down the river around the bend into sight, the boatman and passengers sardonic smile a nod of recognition before continuing on its way, this part of multiethnic and deeply cultural Laos is at once revealing and elusive, genuine and intriguing, practical, straightforward and beguiling.
If you have spent time in this extraordinary country, you may well know exactly what I am talking about. It may go double for the easygoing south, home to a multitude of ethnic of whom the Katu are counted.
It may be just a murmur like a bubble of a brook, or a discovery waiting around the corner like a stunning waterfall.
For this writer, at least one foot has been firmly rooted in Laos' capital Vientiane's news media scene for the past few years.
The other? Always ready to set off on adventure north, south, east or west, of course!
On behalf of Laotian Times and my own media blog Laos Briefly, I'd be bringing our audience on a ride by joining a group of bloggers and new media to be Charmed by Nature, Southern Laos style.
So, it was with both anticipation that one prepared to take a leap of faith and flight via Lao Airlines from Vientiane's Wattay Airport's brand new domestic terminal to the charms of Pakse to meet the folk and reacquaint myself with the place I would be spending quality time with. Sabaideeeee!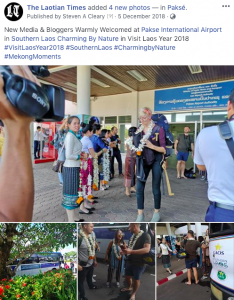 It was already the business end of #VisitLaosYear 2018 festivities, an effort to attract more folk to experience one of South East Asia's most authentic and allowing its chilled destinations to capture more hearts.
Now, I was back deep in Laos Simply Beautiful's South with a smile on my face.
There was also a bit of trepidation. How would one's musings gel with this group of funky adventurers from Australia, Canada, Nepal, Thailand, Pakistan, Switzerland, UK, and US and based in Bangkok and beyond?
Needless to say, there was a lot to learn and more fun to have as we all jumped in the deep end to experience the delights and adventures that await visitors to southern Laos.
If there was any doubt, sharing such experiences over a week was always gonna be fun with those behind blogs with titles like the Chow Traveller, The Roaming Cook, This is Mick, StellaBalcony, Anna Sherchand, Dose of Life, Gerber Photography and The Travelerz alongside local brethren We Are Lao.
Ancient and inclusive traditional VIP welcomes with garlands wandering around the ancient and historic pre-Angkorian temples of Vat Phou to trying to climb up a date palm like a sprightly 70-year-old sugar farmer.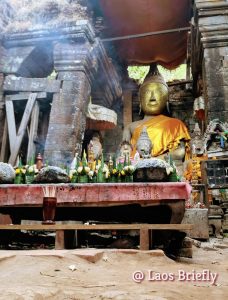 Candles lit, luck wished and bonds created with gathering by proud provincial authorities.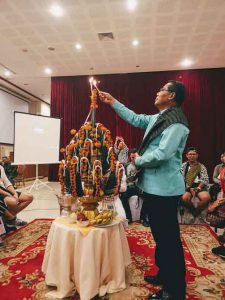 Sipping coffee to get the heart started to blowing your mind ziplining across the face of a 220-metre waterfall.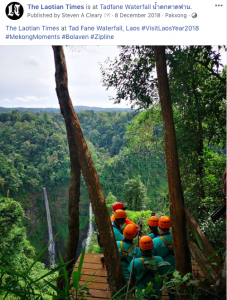 Nodding off on a relaxing riverboat ride before being awoken to see a rare living treasure in the form of an endangered Irrawaddy dolphin.
These are just some of the extraordinary experiences and adventures that visitors to Southern Laos can experience and enjoy, and so we were!
From the elevated reaches, rich volcanic soils fueling the growth of coffee, tea and cascades of the Bolaven Plateau to the slow flow of the river around the 4000 islands, mighty rapids and calm dolphin pool of the Mekong's lowest reach in Laos, the natural attractions abound in Southern Laos.
Fresh air and unbounded beauty await those whose lives are spent more in concrete jungles than rainforest canopies and sparsely inhabited tropical islands.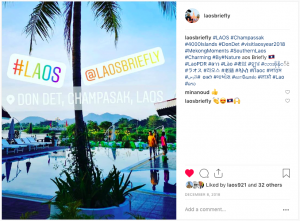 Speaking of flavor, the food! "Extraordinary!"
Drawing on a rich tapestry of ingredients found at various elevations, Lao cuisine has been emerging into the spotlight in recent years alongside its more famous neighbors, the trip's keenest foodies gushed.
Like the cuisine, dance and music added flavor and color and sound to the experiences that are now fond memories.
Watching participants been drawn up and into the dance as full participants was another reminder of the inclusive strengths of Lao culture that adds another layer to the country's experience on offer to travelers.
Picture wise, Southern Laos is also a photographer and videographers dream.
Early light Alms Giving to Monks and Bustle of the Markets.
Golden Buddhas.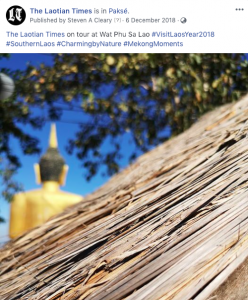 Shimmering sunrises and sunsets.
Ever-evolving cloud formations over the Mekong.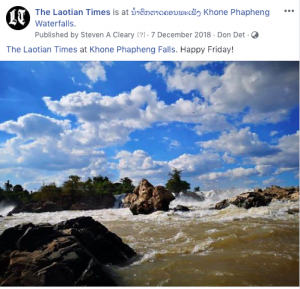 All create scenes that make the heart flutter and prove a snappers dream come true.
Checking out blogs of aforementioned fellow adventurers and I have been transported way back to southern Laos once again!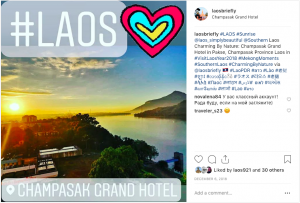 #VisitLaosYear2018 #MekongMoments #SouthernLaos #CharmingByNatureOnline and in person, I would encourage you, dear reader, to do the very same whenever you get the chance in Southern Laos!