Chinese New Year is just around the corner, and there is yet another reason to celebrate with flights to China's glitzy and advanced economic metropolitan magnet Shanghai from the capital of Laos, Vientiane.
Flights from Vientiane to Shanghai for $US199 + tax are expected to light up the departure boards at Wattay International Airport with flag carrier Lao Airlines preparing to head north and back four times a week starting from the 28th of January.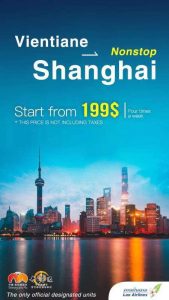 Advertisements for the route to the coastal Chinese economic powerhouse began popping up online.
Confirmation, details via Lao Airlines' own social media and website were still pending January 18 local time.