Laos and the European nation of San Marino have inked diplomatic ties on the sidelines of the United Nations in New York.
Foreign ministers of the two countries met at a signing held on September 28, 2018 at UN Headquarters, Lao News Agency KPL reported.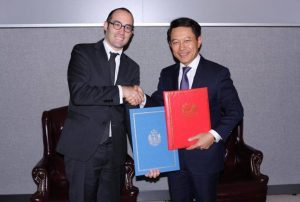 Minister of Foreign Affairs of the Lao PDR Saleumxay Kommasith and San Marino Minister for Foreign and Political Affairs Nicola Renzi shook hands after signing off on the diplomatic deal.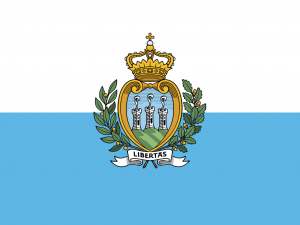 Flag of San Marino
San Marino is a city-state that predates yet the formation of the modern-day Italian Republic.
The land-locked (yet Adriatic Sea proximate) state is nonetheless connected to the outside world by ancient and modern routes alike.
The republic has an area of 61.2 sq km with a population of 33,779 people with Italian the official language.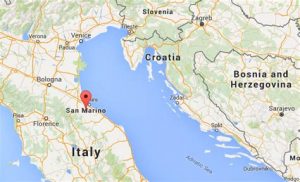 The 141st country with whom Laos has established formal diplomatic links, San Marino is one of the worlds smallest nation states by population and size.
It is understood to have gained independence more than a millennium and a half ago from the Roman Empire on September 3, 301, and professes a long history of independence.
Some 97% professing Christianity & Roman Catholicism as their religious identification.
While not a member of the European Union, San Marino is within the Euro currency zone.