Mechanical investigations have followed after a brake system warning led to a Lao Airlines flight from the capital to China's city of Shanghai returning to Vientiane's Wattay International Airport Sunday.
The aircraft conducted loops above the Nam Ngum Reservoir to burn up fuel before attempting its landing at Vientiane's Wattay Airport, which it did safely, Aviation site Aerolaos reported.
ລາຍງານເພີ່ມກ່ຽວກັບຖ້ຽວບິນຂັດຂ້ອງ: ທີ່ ສະໜາມບິນວັດໄຕ ນະຄອນຫຼວງວຽງຈັນ, ໃຫ້ຮູ້ວ່າໃນເວລາ 21:00 ຄໍ່າຄືນຂອງວັນທີ 10/3/2019…

Posted by AeroLaos on ວັນອາທິດ ທີ 10 ມີນາ 2019
While rescue units had been readied, the 129 passengers and crew of the Airbus A320-214 were returned to their departure point at Wattay safely, with plans being made to reschedule flights amid disruption to passengers business and recreational travel plans.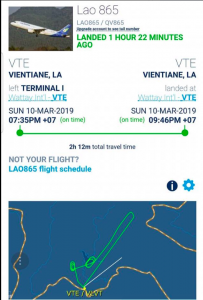 For news on travel to and from Laos with
Lao Airlines
, follow the 
Laotian Times
.