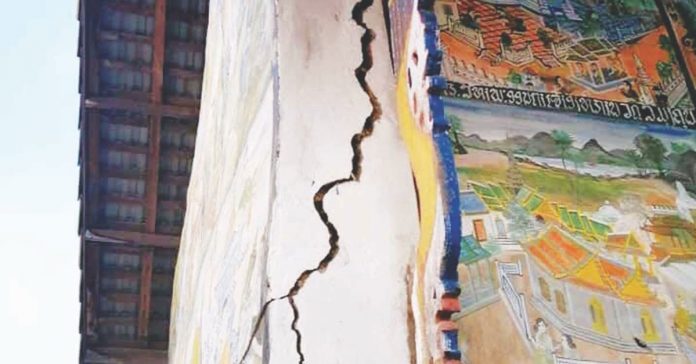 Reports from Hongsa, Xayaboury Province suggest that yesterday's earthquake has caused considerable damage to property in the district.
Hongsa District has seen severe damage in some localities following the 5.7 magnitude earthquake which struck near Xayaboury Province at 4am yesterday morning.
The earthquake has damaged various structures, including residential properties. Many villagers spent the night under makeshift tents, afraid to re-enter their homes.
Ms. Bounphak Inthapanya, Deputy Governor of Xayaboury Province, stated in an interview with the Vientiane Times that the earthquake caused damage to property, and large aftershocks were felt in every district of the province.
According to Head of Hongsa District Office, Mr Lae Onsomboun, thirteen homes and four temples suffered damage in several villages across the district.
Fortunately only two residents minor sustained injuries as a result of the quake, however, structural damages has yet to be fully assessed.
Hongsa Power Company reported that their power plant located in Hongsa District was mostly unaffected, however systems have been taken offline temporarily as a safety precaution.
The company has been undertaking an assessment of its peripheral operations, and thus far has not encountered any major damage, hoping to resume operations within 24 hours.
Tremors from yesterday's earthquake were reportedly felt as far as Vientiane and Bangkok.