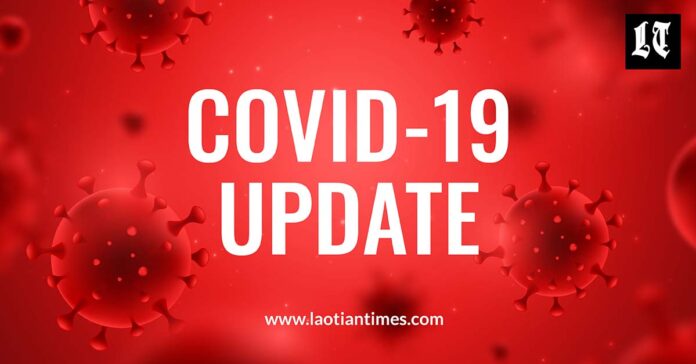 Laos has confirmed 55 new cases of Covid-19, bringing the total number of cases in the country to 1,417.
Dr. Latsamy Vongkhamxao led the daily announcement by the National Taskforce, saying that after 4,985 tests, the country had confirmed 55 new cases of Covid-19, bringing the total number of cases to 1,417.
Of the new cases, Bokeo province saw 25 new cases, with 21 cases in Champasack, and nine cases in Vientiane Capital.
She said the country now has 47 quarantine centers housing 3,386 people.
Dr. Phonepadith Xangsayarath, Director of the National Center for Laboratory and Epidemiology (NCLE), spoke during the announcement regarding the issue of imported cases.
He said that Champasack province was experiencing a large number of imported cases resulting from Lao labor returning from Thailand.
He said cases across the country now include larger numbers of elderly and younger patients, while clusters of cases are also on the rise, such as the cluster of 71 people discovered in Naxay Village, Vientiane Capital, that culminated in the country's first death.
Transmission is common within families, particularly when people fail to comply with regulations such as self-isolating and reducing the chances of infecting family members by having meals separately.
Infected persons have also taken themselves to state or private hospitals and medical clinics, receiving treatment from doctors and nurses and spreading Covid-19 throughout these locations.
Dr. Phonepadith recommended anyone who had visited the New Life Hospital between 19 April to 2 May to monitor themselves for symptoms and receive a test for Covid-19, as the virus was confirmed to have spread among patients at this clinic.
Dr. Bandith Xoumphonphakdy, a national vaccination expert, spoke during the announcement addressing the death of an elderly woman allegedly due to receiving a Covid-19 vaccine.
He said that the investigation was ongoing, however, medical records provided by the woman's daughter suggested that the woman had not in fact suffered from the underlying complications as previously reported.
Instead, it was found that the woman had suffered from arthritis and spinal nerve compression and deterioration, had been treated at several clinics and hospitals and had purchased vitamin supplements, antibiotics, anti-inflammatory, anti-gastric, and pain relief medication at pharmacies. The medical records also suggest that she may have had a form of gastritis.
Dr. Bandith and the Lao medical community are of the belief that excess and repeated intake of these medications may have caused bleeding in the woman's stomach, resulting in her death, rather than any complications caused by the vaccine, which is considered safe.
Finally, Deputy Minister of Labor and Social Welfare Padeumphone Sonthanyspoke regarding policies implemented by the government on assistance for poor and vulnerable persons.
He said that the government would continue to monitor the economic impact of Covid-19 on those without social insurance and provide assistance to those urgently in need.
Those under the social insurance system who have become unemployed as a result of Covid-19 will receive a bank cheque for six months of wages.
Meanwhile, those who have voluntarily enrolled in the social insurance program will have their insurance premiums waived.