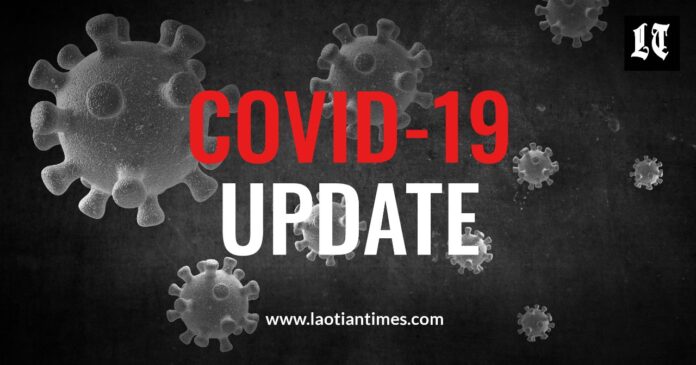 Laos has recorded 454 new cases of Covid-19 across the country today.
The National Taskforce for Covid-19 Prevention and Control reported that 3,825 tests were conducted across the country over the last 24 hours, with 454 new cases confirmed.
There were 450 cases of community spread and four imported cases across the country.

Community Spread in Vientiane Capital:
Vientiane Capital recorded 166 cases across 47 villages in seven districts.
-Saysettha District recorded 53 cases across eight villages, including 40 cases in a prison.
– Chanthabouly District recorded 36 cases across four villages.
– Naxaythong District recorded 20 cases across seven villages.
– Hatsaifong District recorded 20 cases across seven villages.
– Sikhottabong District recorded 11 cases across nine villages.
– Sisattanak District recorded eight cases across four villages.
– Xaythany District recorded 11 cases across eight villages.
Seven more cases are now under investigation.
Community Spread by Province:
In Luang Prabang Province, a total of 90 cases of community spread were recorded, with 13 cases in Ngoy District, 41 cases in Nabak, 13 cases in Phonthong, 11 cases in Luang Prabang District, nine cases in Chomphet, one case in Xiengngeun, an two cases involving persons from Vientiane Capital working at a banana plantation in Pak District.
In Savannakhet Province, there were 34 cases, including 25 in Outhoumphone, three in Kaysone Phomvihane City, two in Artsaphangthong, one in Chomphet, one in Sohngkhone, an done in Artsaphone.
Champasack Province saw 24 cases today, all had been in contact with previously announced cases.
Khammouane Province saw six cases in Thakhek District.
In Vientiane Province, there were 16 cases recorded, with seven in Vang Vieng, five in Viengkham, and four in Keooudom District.
Total Cases:
Laos now has 6,566 active cases of Covid-19, with 22 confirmed deaths, and 25,978 total cases.
Meanwhile, 326 people recovered and were discharged from hospitals around the country yesterday.