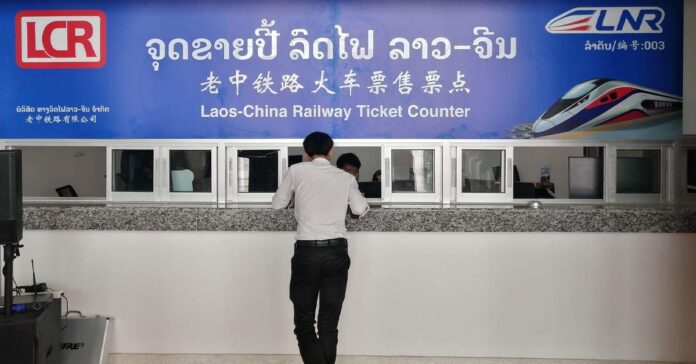 The Laos-China Railway launched its new ticket reservation office last week at the soon-to-be operational Khamsavath station in the capital city of Vientiane.

After the opening of two ticketing offices at Vientiane Center shopping mall and Luang Prabang, the railway has expanded its service to the Khamsavath Station in Vientiane Capital.
KPL reports that Lao National Railways (LNR) began operating the office on Monday last week to alleviate the overcrowding and long lines at the Laos-China Railway stations for train tickets.
Mr. Daochinda Sihalath, Director-General of the Lao National Railways, said that apart from resolving the issue of long queues, the new office can help facilitate more customers as it is more spacious and has a bigger parking lot within its premises.
The new office will also strengthen the cooperation between Lao National Railways and the Laos-China Railway to boost tourism in the country, according to Mr. Daochinda.
The Khamsavath Station, located in Xaysettha District, has finished the second phase of the railway construction and is prepared to open for public use.
Regarding ticket bookings for the Laos-China Railway, Banque Pour Le Commerce Exterieur Lao Public (BCEL) has announced this month that its account holders can pay via BCEL One to purchase tickets online in the local currency.