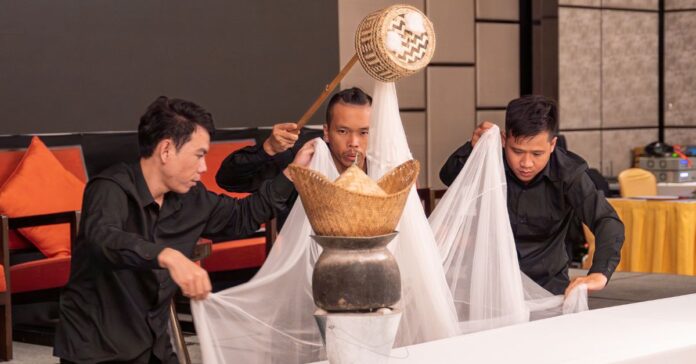 Traditional unimproved cooking methods using charcoal and wood biomass lead to household air pollution that impacts human and environmental health, disproportionately affecting women and children and contributing to the 8,000 deaths from household pollution-linked ailments in Laos annually.
Reduction in exposure to toxic smoke can be achieved by replacing traditional cooking methods with improved and increasingly affordable electric alternatives. E-cooking doesn't sacrifice taste while saving lives and livelihoods by causes of disability and premature death.
These were among the key messages at the Workshop on "Promoting Electric Cooking (e-cooking) in Laos: Opportunities and Barriers" that was organized by SNV Laos on Tuesday, 13 June, through a project funded by EnDev. The event was held with the support of the Ministry of Energy and Mines and the Ministry of Natural Resources and Environment, and with the coordination of the Lao Women's Union and the Association for Rural Mobilization and Improvement (ARMI).
In an effort to promote changes in cooking methods at the household level, the workshop heard from policymakers and international experts who shared experiences and insights from Laos, Cambodia, Nepal, and beyond as part of efforts to unite key stakeholders and identify opportunities and barriers for scaling up electric cooking in Laos.
The event was chaired by Deputy Minister of Energy and Mines Dr. Synava Souphanouvong Ph.D., SNV Laos country director Anna Mutta and Ministry of Energy and Mines Department of Energy Efficiency and Promotion (DEEP) Director General Chantho Milattanapheng and attended by Embassy of Australia to Laos Deputy Head of Mission Dan Heldon.
Keynote Speakers included Professor Ed Brown and Dr Samir Thapa of Modern Energy Cooking Services (MECS) online who were joined in person by Ministry of Natural Resources and Environment Deputy Director of Greenhouse Gas Mitigation Division Mr. Bounthee Saythongvanh, Government of Nepal's Alternative Energy Promotion Centre Executive Director Mr. Nawa Raj Dhakal, SNV Global Cooking Energy Advisor Bastiaan Teune and SNV Laos Energy Sector Leader Baburam Paudel.
A panel discussion moderated by SNV's Global Technical Advisor Raphael Kim Nguyen has discussants including Energizing Development (EnDev) Senior Energy and Climate Advisor Verena Johanna Brinkmann, UNDP Laos Sub-regional Gender Specialist Manorama Sunuwar and World Bank Group Senior Environmental Specialist and Environment Coordinator Maurice Andres Rawlins. Attendees were engaged by MC Khamhou Phanludeth, a cooking performance by the team at Crowne Plaza Vientiane led by executive Chef Louis Yu-Ming Poh, and a dramatic interpretation by Laos' own Khao Niew Theater.
In his opening speech, Deputy Minister of Energy and Mines Mr. Synava Souphanouvong said: "Promotion of electrical devices (e-cookstoves) for food preparation provides a significant opportunity to promote smarter cooking methods as well as to reduce deforestation and the greenhouse gasses that cause climate change while addressing air pollution within the household." Deputy Minister Mr. Synava highlighted the availability of 80% renewable energy in Laos as well as the nation's domestic electricity tariff, which he said was the second cheapest among the Association of South East Asian Nations (ASEAN).
SNV Laos Country Director Anne Mutta said: "Cooking is strongly connected to gender inequalities at the household level. Collecting wood, cleaning pots, and tending to fire are all tasks that fall disproportionately on young girls and women. Smoke emissions also add to the greenhouse gasses that are responsible for climate change."
Stressing the need to accelerate clean energy cooking for all households, she added, "Clean cooking energy means using non-solid fuels such as natural gas, ethanol, or electric technologies that produce less or no emissions. These technologies can save lives, improve health, reduce poverty, empower women, and protect the environment."
"However, achieving universal access to clean cooking energy is not easy. It requires concerted efforts from all stakeholders: the government, the private sector, the civil society, and the development partners. It requires addressing the barriers that prevent people from adopting clean cooking technologies, such as high costs, low awareness, limited availability, and cultural preferences."
Opportunities in Laos include renewable electricity and modernization, availability and affordability of new technologies, and reduction in overall costs while challenges include the increasing use of LPG, scale, upfront costs, and culture, Professor Brown and Dr. Thapa said.
Citing e-cooking promotion efforts in Nepal with relevance to Laos, Mr. Rawa Naj said his country aimed to ensure a reliable and affordable supply of electricity at the household level, ensure a diverse and affordable supply of e-cookstoves, adequate planning and promotional measures alongside engagement, capacity building, quality assurance and service network and resource mobilization and financing.
The "Market Acceleration of Advanced Clean Cookstoves in the Greater Mekong Sub-region" project is implemented under global multi-donor Energizing Development (EnDev) partnership. This phase of the project is set to increase cooking with electrical equipment (e-cooking), increasing safety and sustainability, and recommending the policy, strategy, and national plans to achieve clean and modern cooking in Laos by 2030.
Combustion of cooking fuel and associated smoke exposure contributes to serious health problems that lead to premature deaths and poor health outcomes for thousands of people in Laos and across the Mekong region and beyond every year. This health hazard can be drastically reduced by advanced cookstoves that are cleaner, more energy efficient, and safer than traditional stoves.
Across Cambodia, Laos, and Vietnam, over 65 million people still cook on traditional biomass stoves that contribute to local natural resource degradation and generate significant amounts of greenhouse gas emissions and smoke that pollute kitchens and the ambient air.
A combined total of 60,000 people die each year in these three Mekong region countries as a consequence of inhaling smoke from cooking, a figure similar to the number of deaths caused by diarrhea, malaria, HIV/AIDS, and tuberculosis combined according to the World Health Organization (WHO).
SNV is a mission-driven global development partner working across Asia and Africa with a mission to strengthen capacities and catalyze partnerships that transform the agri-food, energy, and water systems to enable sustainable and more equitable lives for all.