The Lao government signed a Memorandum of Understanding (MOU) with South Korea last week to send more Lao nationals to work in the country's agricultural and fishery sectors and gain experience and expertise from Korean farmers.
The MOU signed by Ms. Anousone Khamsingsavat, the Director General of the Employment Department, Ministry of Labor and Social Welfare, and Mr. Kim Byung Kyoo, the Deputy Governor of Gyeongsangnam-do Province is a step toward ensuring the development of Laos' agricultural production capacity and quality.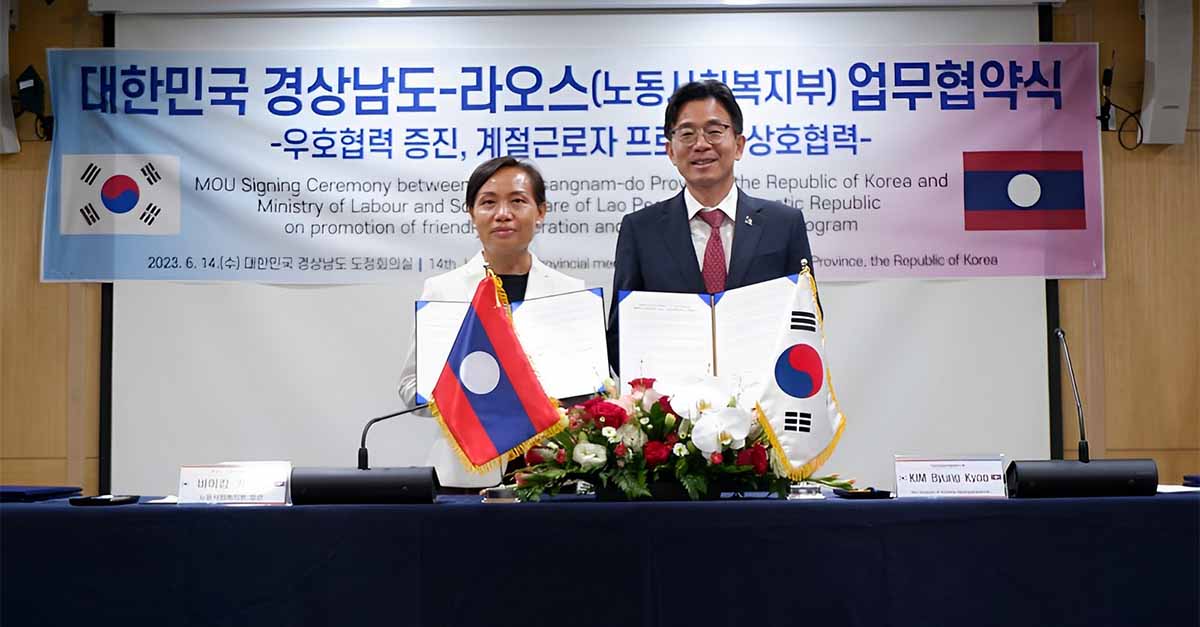 Ms. Anousone Khamsingsavat said during the ceremony in Gyeongsangnam-do province, South Korea, that the Lao government plans to send up to 1,500–2,000 Lao national workers to South Korea each year to receive training in efficient agricultural practices.
On this occasion, the Lao authorities also asked their Korean counterparts to monitor the number of Lao workers being hired by Korean employers and ensure they follow rules and policies during their tenure.
The MOU also includes a provision for change in the quota of workers being hired. The Ministry of Labor and Social Welfare will focus on selecting quality individuals and implementing measures to prevent runaway workers.
In December of last year, the Ministry of Labor and Social Welfare published an official notice advising citizens not to fall prey to fake companies that seek to help them in unlawfully obtaining a job in South Korea.
Laos is ranked seventh among ASEAN countries with the largest number of citizens employed in South Korea. Vietnam, the Philippines, and Indonesia are the top three countries, with 55,795, 26,217, and 24,732 workers, respectively.
According to the Vientiane Times, there are at least 2,800 Lao nationals currently working in South Korea on short-term contracts extending from 2022 to 2023.