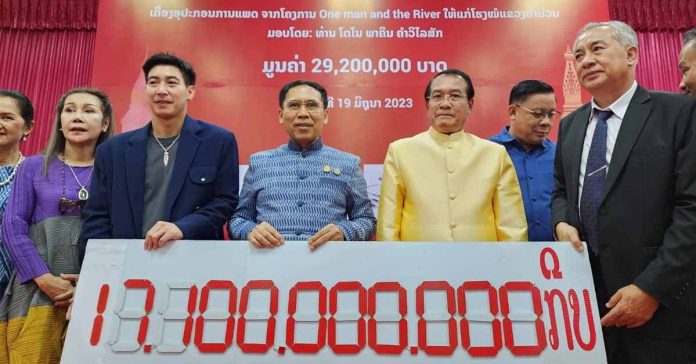 Thai actor and singer Phakin "Tono" Khamwilaisak, who swam across the Mekong River in 2022 to raise funds for two hospitals in Khammouane, Laos, and Nakhon Phanom Thailand, has officially handed over a combined donation of over USD 3 million.
Following his fundraising campaign titled "One Man and the River", the actor from Thailand handed over essential medical equipment to a hospital in Laos valued at over THB 20 million (USD 575,208).
Medical donations for the Khammoune Hospital included ventilators for children, vital sign monitors, cardiac pacemakers, blood pressure monitors, arm blood pressure monitors, and other equipment.
The Governor of Khammouane Province, Mr. Vanxay Phongsavan, thanked the actor for his generous contribution to the hospital and its patients. He also expressed his intention to reward the actor with a medal recognition, on behalf of the government of Laos.
The Thai actor also expressed his happiness and gratitude towards the doctors who played a role in selecting the best medical equipment for the people of Laos.
In October 2022, the actor swam across the Mekong River after preparing for several months to swim 15 kilometers from Thailand's northeastern Nakhon Phanom province to the central Lao province of Khammouane.