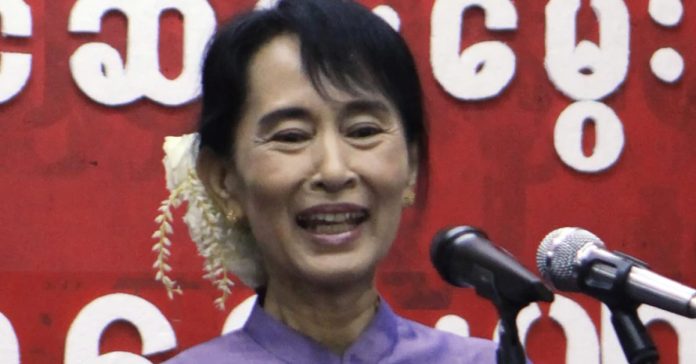 BANGKOK (AP) — Myanmar's Supreme Court scheduled hearings for this month to consider appeals from ousted leader Aung San Suu Kyi against her conviction in cases that saw her receive a total of 33 years in prison, legal officials said Saturday.
The cases against her are mostly brought by the military that seized power from her elected government in February 2021.
The 78-year-old Suu Kyi was arrested following the military takeover and tried on a variety of charges that supporters and rights groups say were concocted to legitimize the usurpation and discredit her so she could not resume an active role in politics.
She has not been seen or allowed to speak in public since she was arrested and her lawyers have been barred from speaking to the press about her cases since late 2021.
Two legal officials familiar with the cases filed against her said the Supreme Court planned to hear Suu Kyi's appeals on 5 July in two cases in which she was convicted of election fraud and breaching the country's official secrets act. She received a three-year sentence for each case in September last year.
The officials spoke on condition of anonymity because they are not authorized to release information about Suu Kyi's cases.
They said the court was due on 12 July to hear appeals against her conviction on five corruption charges where she was found guilty of abusing her position and causing a loss of state funds by neglecting to heed financial regulations. She received seven years of prison time in total for the five cases, which involved granting permission to Win Myat Aye, a Cabinet member in her former government, to hire, buy and maintain a helicopter.
The court set 18 July for a hearing on whether to accept special appeals for reducing the sentences against her in cases where she was convicted of sedition, illegally importing and possessing walkie-talkies, and violating coronavirus restrictions, the legal officials said.
Special appeals are usually the final stage of the appeals process in Myanmar.
Initial appeals filed by her lawyers in most of her cases have already been rejected at least once by lower courts. Appeals of her convictions on seven other corruption charges are still being processed, the legal officials said.
Suu Kyi's legal team has faced several hurdles, including being unable to meet with her to receive her instructions as they prepared her appeals.
They have applied five times for permission to meet with Suu Kyi since they last saw her in person in December, but have not received any response, the legal officials said.
Prison regulations are supposed to allow every newly convicted prisoner to communicate with any person to arrange appeals. However, prison superintendents are allowed to refuse permission for meetings if they think they would be against the public interest.
Myanmar has been in turmoil since the army's 2021 takeover, which led to nationwide peaceful protests that the military government suppressed with deadly force, triggering widespread armed resistance that some U.N. officials characterized as a civil war.
At least 19,295 political detainees, including Suu Kyi, were being held in Myanmar as of Friday, according to the Assistance Association for Political Prisoners, a watchdog group that tracks tallies of arrests and killings by security forces.
___
By GRANT PECK Associated Press