A new flood forecasting and early warning system developed in South Korea could prove to be a lifesaving new technology for Laos and other developing countries prone to flooding.

Laos has long grappled with the devastating impact of flash floods in both urban and rural areas. These sudden and destructive events, exacerbated by the region's challenging terrain, pose a significant threat to the safety and well-being of its population.
Despite the best efforts of the country's Department of Meteorology and Hydrology, as well as new monitoring and forecasting improvements by the Mekong River Commission (MRC), sudden flash flooding events are difficult to predict, making it difficult for authorities to warn residents in time.
However, a research team at the Korea Institute of Civil Engineering and Building Technology (KICT), led by Dr. Hwang Seokhwan, has developed a system to detect flash floods for low-lying urban areas (areas less than 10 meters above sea level) such as Gangnam in Seoul, and in mountainous areas, as speeds of water surge and flow are much faster than in others areas with the same amount of rainfall.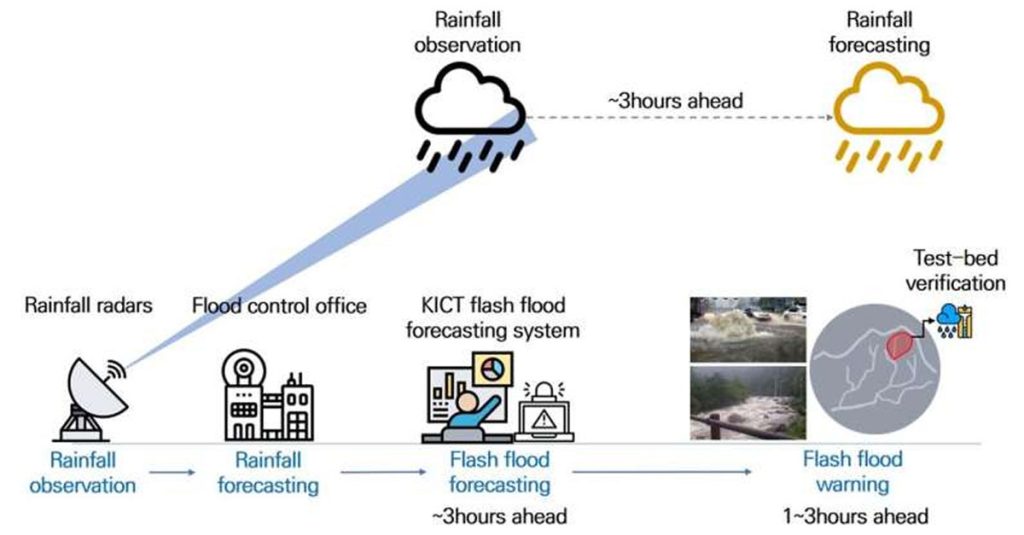 The flash flood forecasting system extracts local factors that determine the depth of flooding and the extent of flood damage in various regions and conditions based on previous flood damage events, as well as regional flood characteristics. With these, the system generates its own equations of the characteristics and employs them to predict the risk of flash floods in areas without flood damage data.
If KICT system were provided to Laos and other developing countries that experience flash flooding every year, the potential benefits would be immense.
Flash flooding poses a significant threat to settlements in areas situated along major rivers and low-lying regions. In 2021 alone, over 70,000 people in Laos were affected by floods and other natural disasters, underscoring the critical importance of timely information, with the accuracy of a forecast holding little value if it arrives too late.
Adopting an innovative flash flood forecasting system, like that developed by Dr. Hwang, could represent notable advancements in protecting the lives and livelihoods of people in Laos. Through the utilization of advanced technology and scientific knowledge, timely and precise information could be delivered to mitigate the severe consequences of flash floods. 
The system's effectiveness has been extensively tested during a 4-year pilot period from 2019 to 2022, demonstrating remarkable success in forecasting major floods across various regions in Korea, and achieving an impressive 90.3% success rate for 31 heavy rainfall events.
By adopting the KICT flash flood forecasting system, Laos and other developing countries could take a significant step forward in protecting lives and livelihoods from the devastating impact of flash floods.