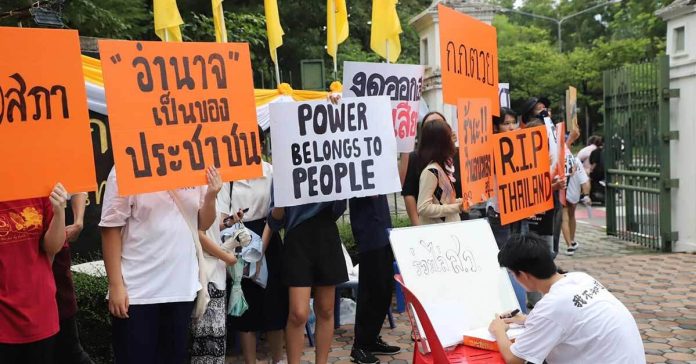 Although Pita Limjaroenrat and his progressive Move Forward Party won in Thailand's May general elections, the parliament voted to deny his second bid to become the country's Prime Minister, leading to protests in Bangkok.
The protests sprung up in several parts of the capital city after the conservative Thai military-appointed senate shot down Pita's nomination for Prime Minister for the second time. This came after the constitutional court suspended him from the Parliament while investigating whether he violated election laws while running for office.
On Wednesday, 600 people gathered for peaceful protests at Bangkok's Democracy Monument, a traditional protest venue.
According to the Facebook pages of The United Front of Thammasat and Demonstration, the Talugas Group, and the Student Organisation of Thailand, rallies are being planned over the weekend as well to protest this decision.
Additionally, there will be a gathering on Friday outside Kasetsart University's auditorium at 5 pm and then again at 7 pm outside the Bangkok Art & Culture Centre (BACC). An 11-day campaign in support of the "democratic movement" also kicked off on Thursday at the city's busy Pathumwan intersection.
Speaking to Al Jazeera, several protestors expressed their exasperation at having the election results dismissed by the Thai parliament yet again.
"I feel angry. They didn't respect the people's will. They didn't listen to the voices of 14 million people," said 21-year-old protester Wilasini Sakaew.
Another protestor chimed in, "I'm very mad, we went through this four years ago, the country is going nowhere and democracy is still being abused. What's the point of having elections when you're going to throw democracy down the toilet?"
Meanwhile, Pita posted on Instagram during the debate saying, "It is now clear that in the current system, winning public approval is not enough to run the country."
Although he won't get to be Thailand's next Prime Minister, the 42-year-old politician pointed out that Thailand has changed since its last elections and "will never be the same".