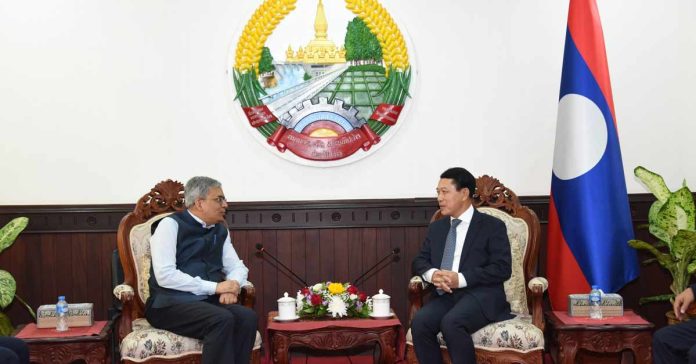 The Lao and Indian Ministers of Foreign Affairs have held discussions to strengthen bilateral cooperation during the third dialogue meeting between the two ministries from 26-29 July.
Deputy PM and Minister of Foreign Affairs, Mr. Saleumxay Kommasith, welcomed Indian Deputy Minister of Foreign Affairs, Mr. Saurabh Kumar, and his delegation, during their visit to Laos.
Laos and India share long-standing and mutually beneficial relations that have been nurtured over the past 67 years. In the initial half of this year, the trade between the two countries amounted to USD 54 million, with Laos exporting goods worth USD 43 million and importing goods worth USD 11 million.
Deputy Prime Minister Saleumxay expressed his appreciation for the visit, which he believes will further strengthen the friendship and cooperation between the two countries.
The two sides witnessed the signing of a Memorandum of Understanding (MOU) for five projects under the Mekong-Ganga Cooperation, totaling USD 248,226; the projects include the construction of a primary school, a training center, a healthcare center, a water pipeline system, and a high school in Laos.
Meanwhile, Deputy Minister of Foreign Affairs, Mr. Phoxay Khaykhamphithoune, expressed appreciation for the valuable assistance provided to Laos by India. This has included the development of human resources, the provision of short and long-term training funds, assistance in public health work, and the provision of loans for projects.
Mr. Phoxay said he hopes that India will continue to assist Laos in the future, especially in its preparations for the ASEAN Chairmanship in 2024.
Additionally, the two ministries agreed to encourage their respective parties to continue coordinating to ensure that the various projects that have been signed are implemented efficiently.
Mr. Saurabh thanked the Lao side for their good cooperation and support, especially in the framework of the ASEAN and UN frameworks. He pledged to promote cooperation between Laos and India to benefit both countries.