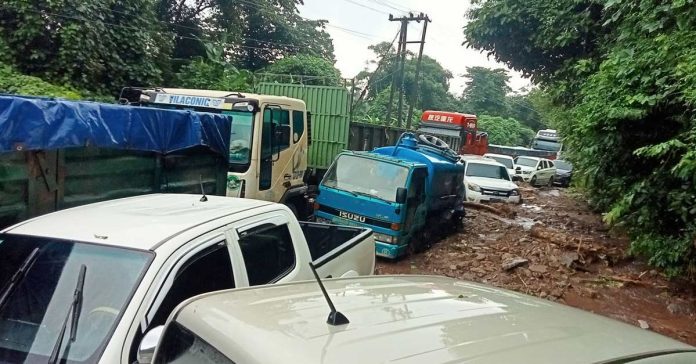 Severe landslides on route 8A between Khammouane and Bolikhamxay provinces have blocked the road for nearly 10 kilometers, leaving 110 vehicles and more than 70 people stranded.
Heavy rains from 27 July to 2 August caused huge landslides on road 8A from Phou Hay area, Khounkham village, Khounkham district, Khammouane province, to Nongkok village, Khamkeut district, Bolikhamxay province, resulting in its closure since last Friday.
Mr. Keovilay Xayabouth, the Governor of Khounkham district, revealed to the media on 6 August that the trapped vehicles included 95 trucks, 13 pickup trucks, 1 bus, and 1 motorcycle. He said that five vehicles were completely damaged and could not be recovered.
"There were more than 70 people stranded in the area; however, most of them have been rescued," says Mr. Keovilay. "One truck driver is still missing identified as Duong Cong Long, 35, a resident of Ha Thinh Province, Vietnam, is still missing," he informs.
According to Mr. Keovilay, the authorities of Khammouane and Bolikhamxay provinces are still searching for the missing person and sending help to those who are still stranded in the region. He added that the provincial authorities are working hard to clear the road so that it can allow the movement of vehicles.
An announcement was also made on Monday for residents to contact the sub-commissioner at the office of the Khounkham District Administration with their vehicle documents to verify their vehicles stuck on Road 8A so that they could be moved out of the area.
The landslide has had a severe impact on the local communities as the road is a major transportation link between the two provinces, and its closure has disrupted travel and commerce while also damaging property, farmland, and livestock.
To combat the effects of the natural disaster, several government and volunteer organizations have stepped up to accept donations and provide immediate assistance to affected victims.