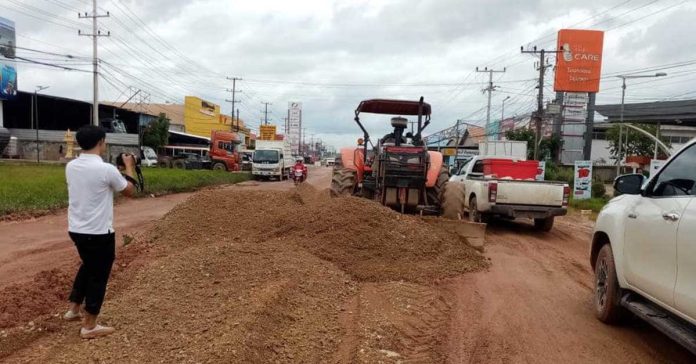 Authorities in Vientiane Capital are trying to wrap up the construction and repair of roads in the rainy season as part of preparations to host the ASEAN Chairmanship in 2024.
The Mayor of Vientiane Capital, Atsaphanthong Siphandone, called on The Department of Public Work and Transport to expedite road work repair for the upcoming event next year. 
The department has signed 12 contracts with the constructors to repair roads in the capital of Vientiane which would cost LAK 28.9 million (USD 1,480). 
According to the department, repair work in urban and suburban areas, particularly near hotels and tourist attractions, is about 42% complete. 
After receiving resident inquiries about the traffic resulting from the construction, the department requested the district offices for public works and transport to check road conditions and monitor drainage before seeking financial support from the government to fix them.
In addition, the mayor advised the department to repair roads and drainage urgently between August to September to improve road traffic.
The Ministry of Public Works and Transport is expected to spend more than LAK 190 billion (USD 11,256,569) to repair roads and manage flooding in Vientiane in preparation for the ASEAN Summit in 2024.
Nearly LAK 20 billion was used to address temporary and long-term flooding on major roads throughout Vientiane Capital in 2022. However, this year residents in Vientiane reported chronic flash flooding caused by poor drainage.