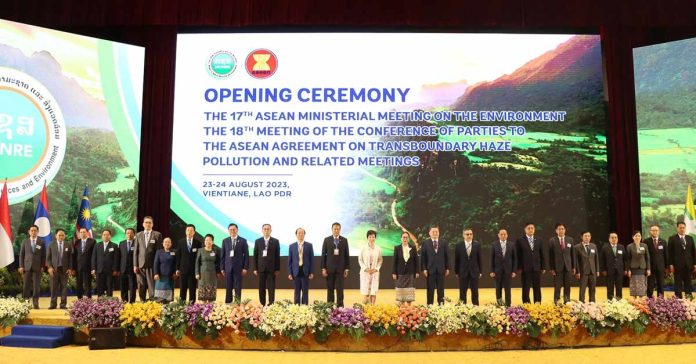 The ASEAN Ministerial Meetings on Environment Protection took place in Vientiane Capital on this week to further strengthen cooperation on environmental issues, including climate change, biodiversity conservation, and pollution control in the ASEAN region.
During the 17th ASEAN Ministerial Meeting on Environment, which was held Wednesday, ministers from all ASEAN member countries discussed ways to advance regional environmental cooperation and integration in order to achieve the goals of the 2030 Agenda for Sustainable Development.
The meeting also addressed important areas under the ASEAN Socio-Cultural Community Blueprint 2025 plan, including the Seven Environmental Strategic Priorities of the working groups under the ASEAN Senior Officials on Environment and the works of the Governing Board of the Asian Center for Biodiversity.
Lao Minister of Natural Resources and Environment, Dr. Bounkham Vorachit, presiding over the meeting, said that the meeting is considered an important platform for discussing and agreeing on regional policies, measures, and plans to support environmental management and sustainable development.
"The ASEAN region is rich in natural resources and biodiversity, which are essential for the socio-economic development of each country," said Dr. Bounkham. "However, in recent decades, the region has experienced many catastrophic environmental problems, such as climate change, floods, and pollution, which have had a significant impact on the environment and people's lives," she added.
Dr. Bounkham expressed hope that the meeting delegates would agree on a new, correct, effective, and practical policy to solve the environmental concerns in the region, especially those of the ASEAN environment ministers. She called on the delegates to show determination, effort, and responsibility in reaching this agreement.
On the same day, the 18th Meeting of the Conference of the Parties to the ASEAN Agreement on Transboundary Haze Pollution was held to discuss issues related to air pollution in the ASEAN region.
The meeting revealed that haze pollution in the Mekong region has become dangerously high, with serious health effects and severe changes in the weather, especially during the dry season.
As a result, ASEAN countries have set a vision under the ASEAN Peatland Management Strategy 2022-2030 (APMS 2022-2030) to control transboundary pollution in areas occurring in the region.
The ASEAN Ministerial meetings in Vientiane Capital were a significant step forward in ASEAN's efforts to address the region's environmental issues, with ministers' commitment to cooperation and action essential to ensuring a sustainable future for the region.