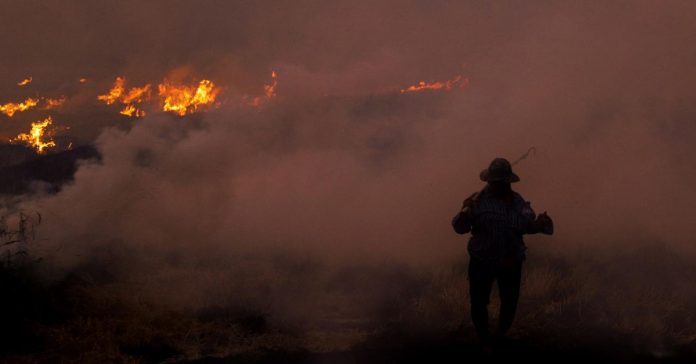 Laos hosted an ASEAN ministerial meeting on Wednesday that saw environmental ministers come together to address the issue of transboundary haze.

The 17th ASEAN Ministerial Meeting on the Environment and the 18th Conference of the Parties on ASEAN Agreement on Transboundary Haze Pollution (COM-18), were chaired by Lao Minister of Natural Resources and Environment, Dr. Bounkham Vorachit, and welcomed the participation of environment ministers from ASEAN member countries.
Dr. Bounkham reaffirmed Laos' commitment to addressing the issue of smog and air pollution, as the country intends to achieve socio-economic growth in line with the ASEAN vision of achieving a smog-free region by 2030.
She also stressed the importance of tackling the issue in concentrated areas, particularly the lower Mekong region, where pollution has reached dangerous levels, posing severe health risks to residents in the area.
The Minister also addressed harmful agricultural activities, such as land clearing and burning for plantation purposes, as common sources of air pollution. He stressed the necessity for collective action to curb these practices.
Also speaking at the COM-18 meeting was Head of Laos' Natural Resources and Environment Research Institute, Mr. Lonekham Atsanavong.
Lonekham said that the meeting has been a highly effective platform to exchange knowledge, information, and lessons in-depth, and to increase cooperation in achieving the common goal of mitigating transboundary haze.
The conference also focused on key ASEAN agreements aimed at diluting transboundary haze pollution from 2022-2030.
Discussions centered on the ongoing implementation of the ASEAN Agreement on Transboundary Haze Pollution (AATHP), the ASEAN Cooperation Program on the Control of Transboundary Haze Pollution, and the ASEAN Forest Management Strategy(APMS) for 2022-2030.
Several ASEAN countries, including Laos and Thailand, have grappled with transboundary haze, particularly this year, with reports indicating that thousands of people have been directly affected by rising air pollution.
In March this year, Thaphabat District in Bolikhamxay Province and Xayaboury Province in Laos ordered the closure of schools due to concerns for student health amid hazardous air pollution, while Luang Prabang in Laos and Chiang Mai province in Thailand both experienced drops in tourist arrivals as a direct result of the smog.
Thai authorities also issued a work from home order in Chiang Mai, as smoke from forest fires and crop burning by farmers caused alarming levels of pollution.
During that time, reports showed high concentrations of particulate matter 2.5 (PM2.5) across Laos and Thailand – harmful particles that have a diameter of 2.5 micrometers or less, and are so small they can get deep into the lungs and enter the bloodstream.