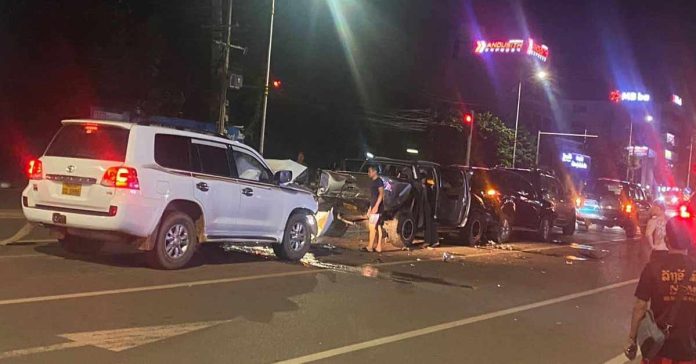 Five Vehicles collided at a traffic light in Phonesart Village, Vientiane Capital, on Wednesday night. The crash disrupted traffic, but no injuries were reported.
The incident happened around 10 p.m. when the vehicles collided at the intersection while heading toward the Patuxay monument. The cause of the crash is believed to be driver error and overspeeding.
Many witnesses and social media users expressed concern for the safety of motorists, while others questioned why they were driving so fast.
Following the incident, police have urged drivers to be cautious and to obey traffic laws to prevent accidents.
Laos recorded 560 road accidents in July, causing 92 deaths. This was a 37 percent increase from the number of accidents that happened in June. A majority of the accidents (234) happened in Vientiane.
Most of the accidents occurred in the evening, at night, and on weekends. Speeding was the leading cause of accidents, followed by drunk driving.
Additionally, there were 6,440 road accidents reported across Laos in 2022, claiming 947 lives. Road accidents in 2022 cost the country's economy over LAK 103 billion (over USD 6 million) in damages.