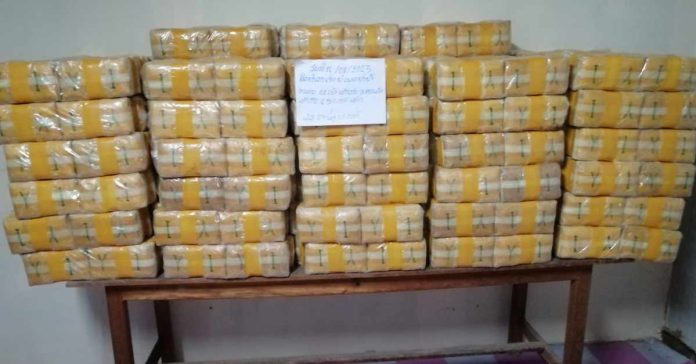 Local police uncovered 756 kilograms of methamphetamine from a car crash in the Golden Triangle Special Economic Zone (SEZ) in late August, but the drivers who were responsible for trafficking the drugs are still on the run.
The crash occurred at around 3:45 AM in Tonpherng district, Bokeo province when a silver pickup truck from Muangkham village was heading toward the SEZ. When it arrived at the entrance gate, it crashed into the back of an excavator carrier that was backing up.
Upon arriving at the scene, the police from the Golden Triangle SEZ saw that the driver of the pickup truck had fled, leaving behind a large quantity of drugs.
Over six million methamphetamine pills were wrapped in 3,150 packages, and stored in 21 bags, inside the truck, weighing a total of 756 kilograms.
The police impounded the car and seized the drugs to continue their investigation and arrest the suspects who fled the scene.
In August, authorities in Bokeo Province also confiscated two pickup trucks and seized 720 kilograms of methamphetamine pills.
Additionally, in July, Tonpheung police in Bokeo province apprehended two individuals for transporting 2.8 million methamphetamine pills across the Mekong River from Myanmar.