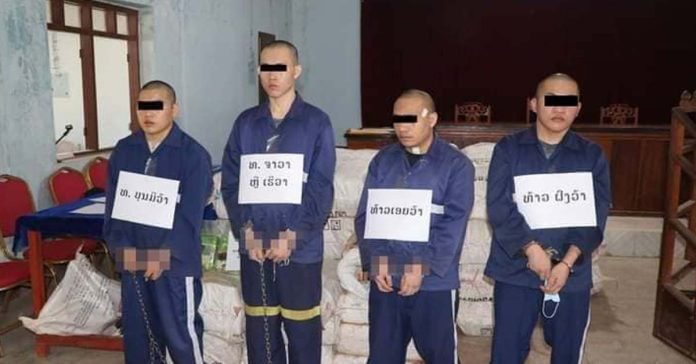 Four people arrested in November 2020 on drug trafficking charges, were handed a death sentence by the People's Court of Oudomxay Province earlier this month.

The defendants, who were arrested in November 2020 for transporting a large quantity of heroin and methamphetamine, were identified as Fong Va, a 35-year-old man; Bounmy Va, a 27-year-old man; Her Va, a 19-year-old man; hailing from Houayxay district in Bokeo Province; and Aia Va, a 24-year-old man from the Khop district in Xayaboury Province.
Drugs seized from the defendants included 4 bags of heroin weighing 152 kilograms and 41 bags of crystal methamphetamine weighing 1,604 kilograms, which were destroyed later, according to the Lao Security Magazine.
After a thorough investigation and confession from the defendants, admitting possession and attempt to transfer the narcotics, the court found them guilty on charges of drug trafficking and sentenced them to death.
Despite severe penalties from time to time, drug trafficking still remains a persistent problem in Laos, with several crackdowns reported almost every month.
In late August, local police in Bokeo province found over six million methamphetamine pills, weighing 756 kilograms, at a car crash in the Golden Triangle Special Economic Zone (SEZ); however, the drivers who were transporting the drugs are currently on the run.
Earlier during the same month, authorities in Bokeo Province seized 720 kilograms of methamphetamine pills and confiscated two pickup trucks, while the drivers who were trafficking the drugs are still at large.