PM Thongloun Joins 31st ASEAN Summit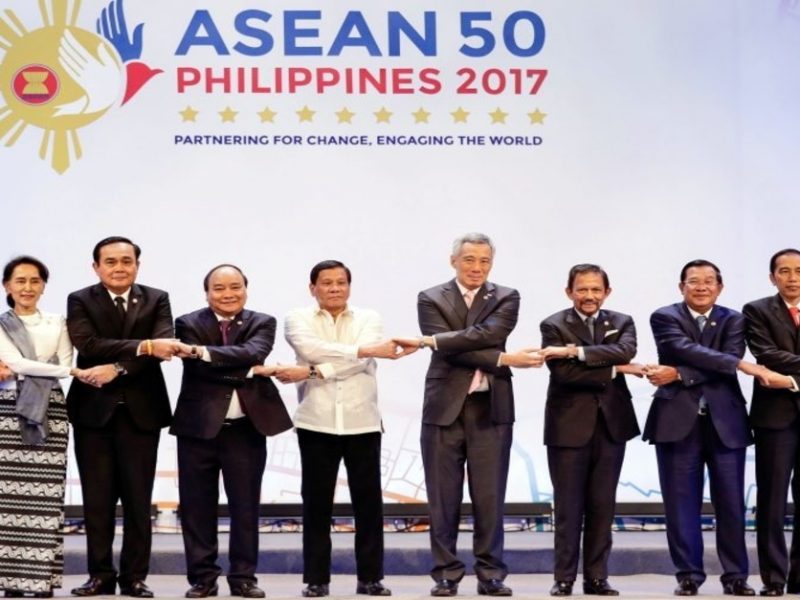 On Monday, November 13th, Prime Minister Thongloun Sisoulith attended the 31st ASEAN Summit held in Manila, the Philippines.
Themed 'Partnering for Change, Engaging the World', ASEAN leaders reviewed the implementation of ASEAN Community Vision 2025, three ASEAN Community blueprints and visions to strengthen the ASEAN Community.  
They encouraged all relevant sectors to continue implementing the blueprints and actions plans successfully and effectively, thus contributing to the implementation of ASEAN Community Vision 2025.
During Prime Minister Thongloun Sisoulith's address, he highlighted the achievements ASEAN has recorded over the past 50 years, the strengthening of ASEAN centred role and the promotion of access to credit among micro, small and medium enterprises, and the narrowing of development gap as well as ASEAN connectivity through the implementation of the 3rd Initiative for ASEAN Integration and ASEAN Connectivity Blueprint 2025.
The discussion at the meeting also focused on the cooperation between ASEAN and dialogue partners, and regional and international issues of common interest, especially situation in the Middle East, Korean peninsular, terrorism, and refugee disasters.
The Prime Minister also attended the 20th ASEAN-China Summit, the ASEAN-US 40th Anniversary Commemorative Summit, the 19th ASEAN-Republic of Korea Summit, the 20th ASEAN-Japan Summit and the 9th ASEAN-United Nations Summit.
The leaders of ASEAN and dialogue partners agreed to strengthen ASEAN-China cooperation, especially through the comprehensive implementation of ASEAN-China Free Trade Agreement in order to achieve ASEAN-China trade value of US$ 1 trillion by 2020, enhance connectivity cooperation and ​promote tourism and people to people exchange​.
ASEAN and China leaders agreed to designate innovation as the focus of the cooperation between ASEAN and China in 2018, and to draft the 2030 Vision for China-ASEAN Strategic Partnership.
ASEAN and U.S. leaders reaffirmed their commitment to strengthening win-win cooperation, especially on security, trade, education, youth exchange. ASEAN leaders noted that the U.S. under the new leadership has continued to attach importance to the ASEAN-US relations and considered ASEAN as a priority of its external policy.
​At the 19th ASEAN-R. Korea Summit, leaders expressed their satisfaction on the implementation of ASEAN-R. Korea Cultural Exchange Year 2017 ​and the establishment of ASEAN Cultural Centre in Busan, R. Korea to promote cultural exchange and mutual understanding and people to people exchange between the two regions.
ASEAN and Korean leaders highly valued trade and investment cooperation between ASEAN and the Republic of Korea and reiterated the importance of the cooperation among micro, small and medium enterprises, the capacity building of ASEAN businesses, cooperation to narrow development gap and connectivity.
ASEAN and Japanese leaders reaffirmed at their 20th summit commitment to strengthen cooperation on connectivity, narrowing development gap, capacity building, human resource development, youth exchange, health and disaster relief efforts.
They welcomed Japan's initiative to strengthen cooperation with ASEAN on the development of quality infrastructure, women empowerment, environment, health, and SME development. ​
ASEAN and UN leaders expressed their commitment to continue strengthening cooperation to promote peace, stability and cooperation for regional and international development.
They agreed to strengthen the collaboration between the two secretariats to ensure the implementation of ASEAN Community Vision 2025 and Agenda 2030 for Sustainable Development.
Both sides also exchanged points of view on regional and international issues of common interest.
Prime Minister Thoungloun also attended a meeting between leaders of ASEAN+Three and the East Asia Business Council, where representatives of the business community from participating countries presented issues related to strengthening participation of the business sector in Regional Comprehensive Economic Partnership.
Prime Minister Thongloun also had separate bilateral meetings with Cambodian Prime Minister Hun Sen on Nov 12, Russian Prime Minister Dmitry Medvedev, Vietnamese counterpart Nguyen Xuan Phuc and UN Secretary General António Guterres.
Source: KPL