Millions of pills smuggled across borders have resulted in a court in Bangkok delivering a second life sentence Wednesday to Lao citizen and convicted drug criminal Xaysana Keophimpha.
Bangkok's Criminal Court originally handed Xaysana Keophimpha a death sentence for smuggling 1 million methamphetamine pills from Laos to southern Thailand and Malaysia, news organisations with reporters based in Thailand have reported, including The Bangkok Post.
The sentence was reduced to life in prison for cooperation with ongoing police investigations.
The same court in March had delivered Xaysana a life sentence over the smuggling of another 1.2 million methamphetamine pills from Laos after being incriminated as the leader of a smuggling network.
Known for his links to various celebrities, photographs of Xaysana with public figures and police officers were widely shared on social media.
The case has long drawn attention on both sides of the Lao-Thai border and beyond ever since Xaysana was arrested on Jan. 19, 2017.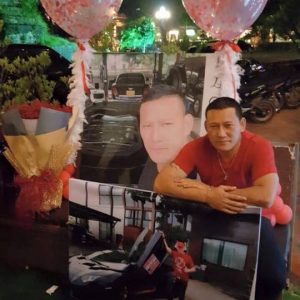 High Profile Case with Celebrity, Powerful Links
A handy explainer was published by The Laotian Times earlier this year entitled The Xaysana Case: What We Know So Far.
The Laotian Times then reported in March this year that Thai and regional media brought to light stories of rumored connections to powerful and influential factions that had allowed him to conduct the illegal operations.
"Images of his ostentatious lifestyle have gone viral on social media in Laos where the majority of the public have condemned his actions."
Two life sentences certainly provide ample time to consider the end results of his own actions and redeem himself in a way a death sentence does not allow.
Perhaps another positive to come from the case might be an example to the misguided to think twice (or thrice) before risking their freedom in the pursuit of illicit-drug-financed and similarly ill-gotten fair-weather friends, fame and riches.