Thailand knows the time of year as Songkran. Cambodia has Chol Chnam Thmey. Myanmar marks the occasion with Thingyan. In Laos, Boun Pi Mai.
Also Known as Lao New Year, the biggest festival on the Lao calendar brings three days of celebration and rejoicing across the country and beyond, taking place every year from April 14th to 16th.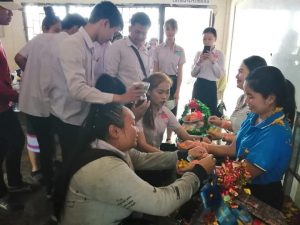 While it's said each month has a different celebration for the people of Laos, Boun Pi Mai is certainly a very special one to Laotians at home and abroad.
Please Don't Rush, It's Wet!
Times change and social mores are on the move, influencing lifestyles of contemporary Laos.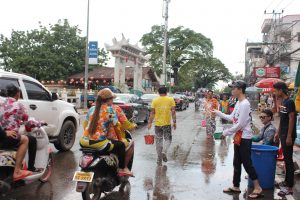 The celebration of Lao New Year is no different. Yet one constant throughout is water.
Whether its ceremonially offering respect to elders or playing and throwing or sprinkling it on friends, a primary activity is always to get others wet.
Many folks set up a small paddling pool in front of their house.
Others go around in a pickup with a water bucket and throw water for fun, despite it being officially frowned upon.
The roadsides of Vientiane and other cities brighten up, with shopkeepers offering bold New Year fashions to the passing public.
People dress up for the celebration, particularly in Luang Prabang where traditions hold tightest.
There is a conflict between the decorum required at places of worship and on the street beyond.
Many don't know the history of when it's started and why.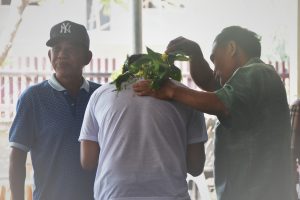 As a young and curious boy, I heard from my grandfather that it's a Buddhist festival.
As devotees, we believe (as followers of many other religions also do) that New Year can take bad things away and bring good fortune.
Of course, the festival known as Boun Pi Mai is not only celebrated in Laos.
Celebrations in neighboring countries all derive from the same Buddhist calendar.
These might have been scheduled to coincide with time between harvest and planting seasons to provide a window of rare leisure in the year's hectic schedule.
These days I can not remember my childhood New Year celebrations in great detail, yet I am sure we didn't have so many activities available as recently.
Forgotten memories return when I see the children playing with water in a village in Ngoi district near the town of Luang Prabang province.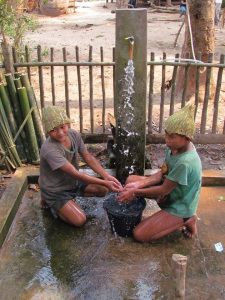 Celebrating Pi Mai AKA Lao New Year in Laos
The village was quite rustic, but the children were having heaps of fun just as I did with my friends some 25 years ago.
They fetched water from a stream in the woods.
In my time we had to pump it out of the ground by hand.
Before throwing it over each other of course!
Growing up, our home was by the main roadside of Nontae village inXaythany district, about 25km from Vientiane.
We had a water pump in the village which was close to my house.
All of our friends would be there playing with water together.
We were delighted anytime whenever some people were passing by, so we hurried up to pump the water out and throw at them. We would never tire of it.
I also remember that at the time, many of our fellow countryfolks of the Hmong and Khmu ethnicity didn't celebrate Boun Pi Mai so much as they might today.
Due to the difference in cultures, they were sometimes furious when we threw water at them, but we were not concerned enough to stop.
Whatever they said we still gave a blessing to them all the times while showering them repeatedly.
Back to the Village & Family Homes
My family is big and extended one like a tree.
As my grandparents stayed in my house, most of our family would have an appointment at the new year to visit and have a Somma ceremony.
Somma sees children seek forgiveness from parents and older adults by giving Khan-ha (a set of offerings comprising five pairs of flowers and candles) and also conduct a Baci ceremony as well.
I don't know when I first experienced the Somma ceremony, but we did it with older family members every year for as long as I can remember.
In the past, we had a long three-day celebration but spent more of that time with family and cousins in our village.
Maybe it's because we didn't have a car to take us to go away anywhere.
We would do all the traditional and cultural ceremonies such as Somma, Baci, bathing Buddha statues in our local area.
Of course, the festival was primarily a family and community celebration. It was a timeless joy to experience these together.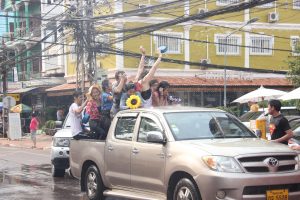 Today, Lao New Year remains the biggest festival celebration and taking place everywhere nationwide.
Of course, anyone of any ethnic group or nationality can have fun together in Laos these days at Boun Pimai.
However, some things are changing. More and more cultural traditions are being left by the wayside.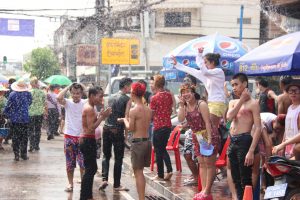 Young people have more time for loud music than culture, especially along the roadsides, house and drinking venues.
Of course, it's enjoyable to mess around with water and have fun, but we should be aware of the meaning behind it.
Laotian youth at home and abroad should also know what Lao New Year means and continue the traditional forms of celebration for the benefit of current and future generations.