The United Nations in Lao PDR has a new Resident Coordinator, the most senior UN Official in Laos.
Ms. Sara Sekkenes a national of Norway succeeds Ms. Kaarina Immonen of Finland in the key diplomatic and development role.
Ms. Sekkenes assumes the position representing the UN and it's Secretary-General in the country.
She will lead the UN's Country Team of 16 UN organizations in its support to the national development priorities in line with the 8th National Socio-Economic Development Plan and the Sustainable Development Goals (SDGs).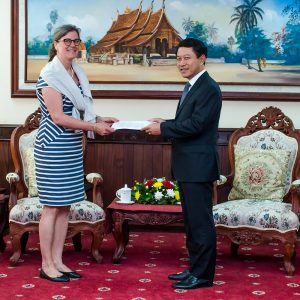 Minister of Foreign Affairs Mr. Saleumxay Kommasith received Ms Sekkenes credentials on Friday May 3, 2019 in Vientiane.
Working with the United Nations since 2006, Ms. Sara Sekkenes most recently served as UNDP's conflict prevention partnership adviser, engaging in the prevention of violence, control of arms and mine action work.
Until December 2018, the United Nations Resident Coordinator also acted as the United Nations Development Programme (UNDP) Resident Representative.
Now, the roles have been split, allowing the new Resident Coordinator to focus specifically upon strategic leadership of and support to the UN Country Team.
In May 2018, the United Nations General Assembly adopted a resolution to reform the global UN Development System, transforming its structure and leadership.
The reform aims to strengthen the coherence of UN organizations' work to maximize the resources and contributions in the best interest of the people.
"For the United Nations, 2019 marks the beginning of a new era as the Resident Coordinator System delinks from UNDP. However, it is not new for the UN in Lao PDR to deliver results in a coordinated way, as one," Ms. Sekkenes said.
With the Lao PDR – United Nations Partnership Framework (2017-2021) guiding our work, we will continue our support to the Government to reach its aspirations of by 2030 becoming an upper middle-income country, where all people benefit equally from quality services, including those most vulnerable," 
Prior to her UNDP assignment, she worked with the non-governmental organization Norwegian People's Aid, based in Mozambique, Angola and Serbia, on global landmine and cluster munitions campaigns.
A national of Norway, Ms. Sekkenes holds a Master from the University of Gothenburg, Sweden in the field of Human and Physical Geography and additional university degrees in Development Studies and Political Geography and is proficient in English, French and Norwegian.