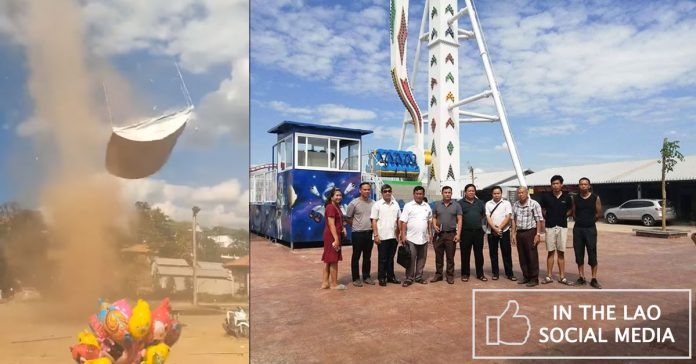 The Laotian Times brings our readers a round-up of some of the most shared topics this past week, based on reach and engagement on Facebook. From tornadoes and earthquakes to fintech advances and vocal parliament members, this list summarizes the types of content that are wildly consumed on Lao social media.
Affected Victims of Hongsa Earthquake Camp Outside
After an earthquake rocked Hongsa (Sayaboury Province) on Nov 21 compromising the structural integrity of their homes, many affected residents camped outside for the night for fear that the houses would collapse. Pictures show Hongsa residents sleeping inside small camp tents, mosquito nets wrapped around small trees and even in the back of pickup trucks. Other houses have been completely devastated.
Oudomxay Whirlwind
This rare footage of a whirlwind in Oudomxay made it into the social media feeds of over a hundred thousand users. The whirlwind ripped through a provincial traditional textiles trade expo in Bang District, Oudomxay Province, on Nov 21 causing minor damage. The second part of the clip showed a tent structure being forcefully sent into the air, as shocked screams of nearby bystanders could be heard in the background. Comments were filled with laments of Laos' recent natural disaster plights: the floods in the south, the earthquake, and now a whirlwind.
https://www.facebook.com/tholakhong/videos/774054789707075/
Where Two Rivers Meet
A mesmerizing 360-degree aerial shot of the confluence of two rivers (the Mekong and Xun Rivers) was taken and shared by thousands. The picture was taken by a drone in Paksan, Bolikhamxay Province. Lao people love their scenic nature photos!
Murder in Champasak
On Nov 21 (13:10), Champasak Rescue 1623 reported that a family of three had been killed in their home in Khonelay Village (Paksé). The 60-year-old village chief, his wife, and daughter instantly died from injuries resulting from strong blows to the head. A suspect has been apprehended by the local authorities and an investigation as to the motive of the murder is underway.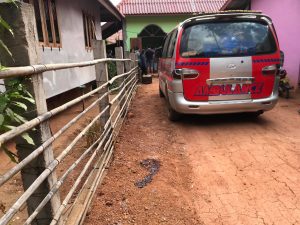 Customers Demand Smaller Bank Notes From ATMs
Many Lao netizens seem to agree with this public demand for smaller notes when they withdraw cash from automatic teller machines. The post says: "There are only 50000 and 100000 kip notes during withdrawal. The people request that there be smaller bills available – such as 1000, 2000, 5000, 10000 kip notes."
Even Easier to Withdraw Cash
These days, we hold on to our mobile phones more intimately than we do our wallets and purses. That's why BCEL has given customers a new way to withdraw cash at ATMs. Forgot your ATM card? No matter. Simply use the BCEL One app and use it to scan the barcode presented on the ATM display and enter your 6-digit PIN code. This is a good solution to preventing RFID hacking of bank cards.
https://www.facebook.com/tholakhong/videos/492901277974464/?v=492901277974464
Nostalgia over the Old Revolutionary Days with a Lamvong Song
Lao people truly love watching videos, and even more so those from the distant past. The first part of this music video includes a rare clip of President Kaysone Phomvihane and the other leaders of the revolution dancing the lamvong with female members of the Lao military. The footage was released by the Cinema Department (Ministry of Information, Culture, and Tourism).
ລຳວົງ ແດນດອກຈຳປາ ມິ່ງຂັວນເມືອງລາວ#ຄລິບຫາຊົມໄດ້ຍາກ #ທ່ານຜູ່ນໍາລໍາວົງ

Posted by ໂທລະໂຄ່ງ THOLAKHONG on ວັນອັງຄານ ທີ 19 ພະຈິກ 2019
Incident at the Amusement Park
Earlier last week, a video clip circulated on social media of people being stuck at the top of a spinning ride structure in a recently opened amusement park in Vientiane Capital. Many blamed the malfunction on a mechanical defect but the park owners claim that it was due to an insufficiency of power. The district authorities were there to inspect the scene.
Parliament Member from Phongsaly Speaks His Mind
Chansy Sengsomphou, a representative of Phongsaly (2nd region), spoke freely during a Parliament session. Apart from the issues of low rice production, rising debt, and other economic woes, the Phongsaly rep reminded listeners how the Chinese state dealt with national development.
"By 2019, in China, if a governor of a certain province is unable to eradicate poverty within his area of jurisdiction, he must resign. If a district chief cannot meet poverty eradication goals, he has to resign. This applies to the village chief as well."
He then facetiously remarked that in Laos, the village chiefs would rejoice if they were made to resign from their posts – highlighting the commonly held perception that the village chief's job was highly unrewarding.
In order to enhance state revenue targets and prevent leakage, Representative Sengsomphou proposed that state revenue planning and collection be performed by different bodies, making it more difficult for any one body to engage in foul play.
"We can take the example of how the electricity company does it. One division determines the amount that needs to be collected by checking the usage of every household, while another division collects the money. But revenue planning and collection are performed by the same entities in our state finance organ. This could potentially cause bad actors to take advantage of the situation."
https://www.facebook.com/tholakhong/videos/807134119722235/?v=807134119722235