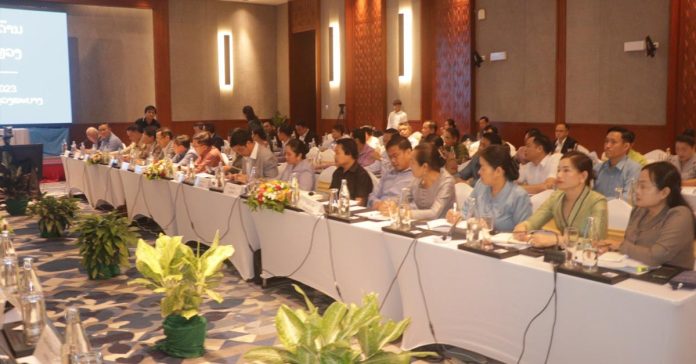 Deputy Prime Minister Kikeo Khaykhamphithoune presided over a meeting last week in Luang Prabang on safety concerns regarding major roads in the northern provinces of Laos.
The meeting was attended by representatives from the relevant provincial departments to monitor the implementation of the national strategy for main road safety for the period of 2021–2030 and the operational plan for the period of 2021–2025, according to Pasaxon.
On this occasion, the Deputy Prime Minister asked the Northern Provinces Road Safety Committee to report issues that were discovered during their research regarding road conditions in the region. He also urged them to find solutions that help execute road safety work in every locality in an effective manner so as to prevent and reduce accidents. 
Additionally, it was revealed that a private company, Oceano Company Co. Ltd. donated LAK 100 million (USD 5,254) to the road safety fund, which was received by Minister of Transport and Tourism. The Deputy Prime Minister handed over some of this financial aid to the administration of Ngoi village at the end of the meeting.
Road safety is a major concern in Laos, where 6,440 accidents killed 947 people in 2022 and injured over 6,000 others. Just this week, a woman suffered grievous injuries to her head, after being hit by a rock due to landslides on a mountain road in Luang Prabang.
In the northern provinces, the mountainous Phou Kao Lak road has become notorious for poor conditions, with numerous accidents and fatalities recorded every year. Authorities had earlier planned to construct a rescue facility on this treacherous road in Vientiane Province, but no progress has been reported on this so far.