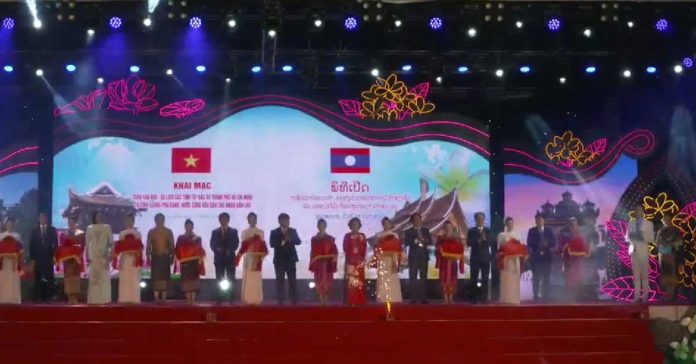 On the evening of 25 October, Luang Prabang, Laos, came alive with the sounds of music and laughter. The city's historic That Luang area was the setting for Culture-Tourism Week, a joint celebration between Luang Prabang Province and several provinces from the Northwest region of Vietnam, along with Ho Chi Minh City.
Culture-Tourism Week will run from 25 to 27 October to mark the 61st anniversary of the establishment of diplomatic relations between Vietnam and Laos (1962–2023).
The event was kicked off by Bounlem Manivong, Deputy Governor of Luang Prabang Province, and Vu A Bang, Vice Chairman of the People's Committee of Dien Bien Province, Vietnam. In their remarks, both officials highlighted the strong friendship and cooperation between the two countries and the importance of cultural exchange and tourism in promoting these ties.
The week-long event will be packed with activities, including literary and art shows, photo exhibits, product and tourism exhibitions, sightseeing tours, and a tourism advertising seminar. Visitors have the opportunity to learn about the rich cultures and tourist attractions of both Luang Prabang and Vietnam's Northwest region.
One of the highlights of the event is a cultural performance featuring traditional Lao and Vietnamese dances, music, and songs. In addition to celebrating culture, the event also provides opportunities for businesses from the two countries to connect and promote integration, cooperation, and development. The tourism advertising seminar, in particular, is a valuable platform for businesses to share ideas and strategies for expanding the tourism market in the future.
The first day of Culture-Tourism Week has already been a resounding success. The event will serve to further strengthen the bonds between Luang Prabang and its Vietnamese neighbor.