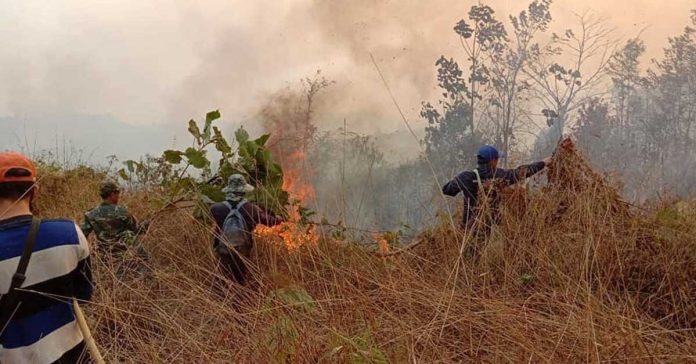 As the dry season approaches, the annual forest and garbage burning issue looms large.
In a new attempt to solve the problem, the Lao environmental authorities gathered on 19 October with key stakeholders, including the World Health Organization, to discuss effective ways to reduce the number of unregulated fires by 35 percent in 2025.
The meeting's participants discussed the health risks of smog and the national action plan to prevent, prepare for, and respond to air pollution, which in Laos is mostly caused by forest fires and household waste burning, deforestation, and the burning of agricultural land, as stated on the Ministry of Natural Resources and Environment's official Facebook page.
Building public awareness of the short- and long-term health risks, conducting climate change awareness workshops, and decentralizing fire response management are just some of the actionable measures the authorities came up with in their recent meeting.
The participants also emphasized the need for authorities to allocate sufficient funding to the prevention and response of forest fires. The local authorities should further work closely with families to spread awareness of the negative effects of burning protected forest areas.
If successful, the plan will result in a drastic improvement in health, forest resources, and the forest ecosystem. It will also contribute to the implementation of the ASEAN agreement on cross-border smog pollution.