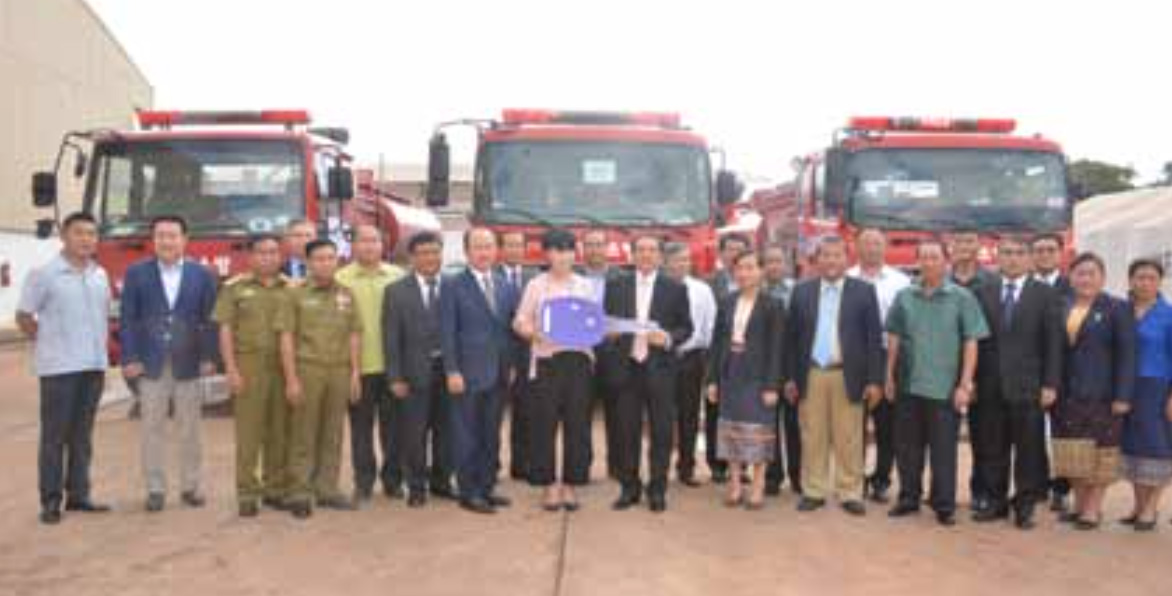 The Sharing Culture Arts Association of Korea has provided four fire trucks as well as associated fire prevention equipment for distribution to four provinces of Laos where such equipment is lacking.
The fire trucks, which were purchased and supplied at a cost of US$523,135 (about four billion kip) will be made available for use by fire prevention authorities in the provinces of Vientiane, Xieng Khuang, Luang Prabang and Xaysomboun.
A donation ceremony took place in Vientiane on Monday evening, between President of the Sharing Culture Arts Association of Korea Dr Yoo Hyun Sook and the Minister of Labour and Social Welfare, Dr Khampheng Xaysompheng.
The ceremony was attended by the Ambassador of the Republic of Korea to Laos, Mr. Yun Kang-hyeon.
In the past, the Sharing Culture Arts Association of Korea had been assisting poor people in the Lao PDR by providing clothing and other essentials to people in rural areas.
Deputy Head of the Fire Prevention and Protection Police Department of the Ministry of Public Security, Lieutenant Colonel Vilaphone Vongkhammounty told Vientiane Times on Monday that there are still not enough fire trucks to meet firefighting and prevention efforts nationwide.
Lieutenant Colonel Vilaphone reported that currently, there are 271 vehicles for firefighting efforts nationwide while the capital Vientiane has 19 vehicles for the prevention of fire.
Usually the vehicles can operate for fires up to 30 metres above the ground. However there are still many areas of the country which lack sufficient firefighting capacity, including Sisattanak, Xaysettha, and Sikhottabong districts of the capital.
According to the department, 112 fires occurred around the country from January to June this year, causing over 101 billion kip in damages.
Some 132 houses burned down, 30 hectares of grass were scorched, while two markets, one miller and other items were destroyed. Five cars were among the many items were destroyed damaged or destroyed.
Officials said 37 of the fires were caused by electrical shorts, another seven by arson, 15 through carelessness or forgetfulness and other cases which are still under investigation.
Most of the fires occurred in Vientiane but there was also a large fire outbreak in Dao Heuang market in Pakxe district, Champassak province. That fire gutted the market at an estimated cost of 58 billion kip.
The department advises members of the public to check their electrical devices before leaving home, to take care when burning rubbish, and not to let children play with fire.
The department also repeated its warning for people to be on guard against accidental fires and not to take risks with electrical wiring or appliances, or to leave burning candles unattended.
In the event of a fire in the capital, the number to call for the Vientiane Prevention and Protection Police Department is 1190 or 021 212707.
Source: Vientiane Times