While most of us are familiar with visiting state offices and calling public hotlines for access to various government services, few would have considered that the Lao government has forayed into the virtual sphere. From being present on social media to maintaining more conventional websites and facebook pages, several government sectors have been more active than others in getting on the online bandwagon. Countless resources from both public money and official development aid have been employed in an attempt to get information on/in Laos on to the digital world map, so to speak.
For various reasons, although the country may not have yet fully realized its true digital potential, it is on the right track. Here are some top useful government websites that you may not have known existed.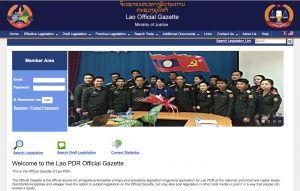 The Official Gazette is operated by the Ministry of Justice. Its primary objective is to publish legislation as well as draft legislation to ensure that members of the public are aware of and can comment on all approved and promulgated legislation.
Laws in Laos are adopted by the National Assembly and promulgated by a Presidential Decree. Subsidiary legislation (e.g. decrees, decisions, orders, instructions, etc.) may be issued by the National Assembly or its Standing Committee, the President, the Government, the Prime Minister, or a ministry.
While national legislation applies uniformly throughout the country, local legislation may also be adopted and implemented to address local issues. Provincial and municipal legislation must be published in the Official Gazette for 15 days to come into legal force, whereas district and village legislation may opt for local publication.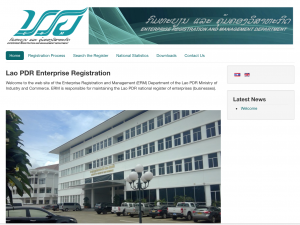 The Enterprise Registration and Management (ERM) Department of the Ministry of Industry and Commerce (MOIC) is tasked with maintaining the country's national register of enterprises (businesses). This website consists of a complete database of all registered businesses in Laos.
If you're dealing with a company in Laos and would like to verify whether it's a legitimate and registered business, the chances are that you will find them on this website. You can search for the owner's name or the company's name in both English and Lao language.
While this should not be a substitute for actual due diligence before potentially conducting business with prospective firms, searching for them on this official government website would be a starting point.
Copies of the records of the businesses listed in the website can be bought or viewed at the MOIC central office in Vientiane Capital, according to the website.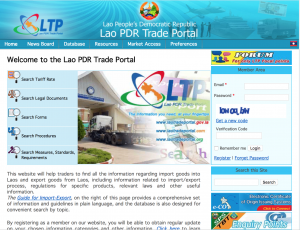 The Lao Trade Portal is the single stop point for all information relating to import into and export from Laos.
Managed by the Department of Import and Export of the Ministry of Industry and Commerce on behalf of all government agencies involved in the import/export process, the website allows traders access to information about all the regulatory requirements they need to fulfill in order to carry out their transactions. These regulatory requirements may involve a number of government agencies. This website will help with finding out what is required by each agency in relation to a specific business.
The website provides a comprehensive set of guidelines in easy to understand language, and the database is also designed for convenient search by topic.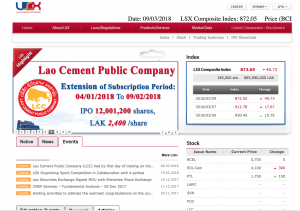 While it's hard to compete with MarketWatch or CNN Money, the Lao Securities Exchange website does offer all the latest stock prices of and updates from all locally listed companies. To date, there are currently 7 local company stocks that are traded daily.
In order to be able to trade Lao stocks, one must open a brokerage account with any brokerage firm registered in Laos such as BCEL-KT or Lanexang Securities.
The stock prices are also available on the Laotian Times website.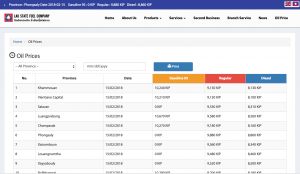 Being the biggest provider of fuel products in Laos, the Lao State Fuel Enterprise's fuel prices provide a benchmark for all other fuel stations in the country.
The rates for Vientiane Capital are available on the Laotian Times website.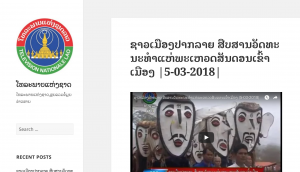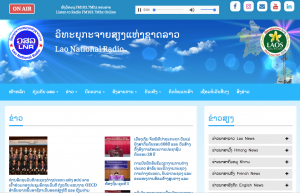 Do you want to improve your Lao comprehension skills? Do you want to be kept up to date with current events inside Laos? Are you interested in Lao music?
The official websites for Lao National Television (also available on YouTube) and Lao National Radio are great examples of Lao broadcast media that provide answers to the aforementioned questions!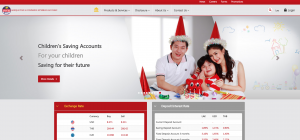 The biggest and most widely used bank in Laos is undoubtedly state-owned Banque pour le Commerce Extérieur Lao, otherwise known as BCEL. For this reason, its exchange rates are often used as a benchmark for all other banks to issue their own rates for the day.
While the Bank of Laos website provides, on a daily basis, the rates by which all commercial banks must follow, it is often BCEL to which members of the commercial public turn to when the question "what's the bank rate today?" comes up.
These rates are also available on the Laotian Times website.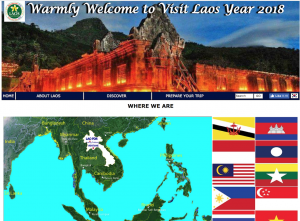 While it could benefit from a little revamping, this is the government's official tourism website and it contains a wealth of information about what to do and visit in Laos. Managed by the Tourism Marketing Department of the Ministry of Information, Culture and Tourism (MOICT), the website contains swathes of pictures of activities, attractions and advice to travelers.
For alternative sources of information, it may be wise to check out the Lao Airlines inflight magazine website, Champa Meuanglao or the newly-created We Are Lao portal.