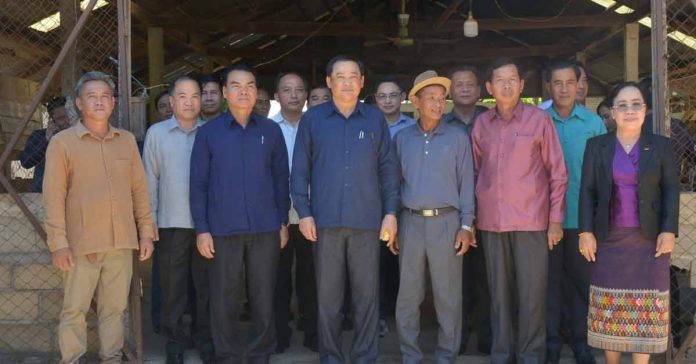 Prime Minister Sonexay Siphandone visited Vientiane Province last Saturday with ministers and deputy ministers from relevant ministries and agencies to encourage local authorities to further develop tourism in the area.
During his trip, Mr. Sonexay visited the Nam Ngum Hydroelectric Dam, where he monitored a road improvement project and the construction of tourist facilities around the reservoir.
According to Pasaxon, he specifically recommended that provincial authorities encourage the development of tourist attractions around the Nam Ngum Dam, as the dam has the potential to attract more visitors to the reservoir and surrounding areas.
The development of tourism-related infrastructure around the Nam Ngum reservoir is one of the projects that is funded by the Asian Development Bank (ADB), along with the Kaeng Yui waterfall, and the Nam Song River in Vang Vieng, Vientiane Province.
Recently, KPL reported that the project to develop tourism infrastructure in the Nam Ngum basin is underway and expected to attract more visitors and promote employment for locals in the area once completed.
Mr. Sonexay also met with local leaders and expressed his appreciation for the progress that has been made in the development of tourism in Vientiane province.
Additionally, he urged concerned sectors and entrepreneurs in Vientiane Province to continue to promote the development of agriculture and infrastructure in the region, and he also handed over some money to the Jeng village cooperative group to finance their further development.
He also asked ministries to cooperate and ensure sufficient water and electricity supply for farming, reduce production costs and promote high-quality products for domestic and export markets.